After a sad month of June, which saw it give up another 45% to close at $1000, Ethereum has regained some color by holding above $1200 for the past few days. But Ethereum trading volumes still continue to decline, with 1.6 trillion less in the second quarter.
Ethereum (ETH) trading volume hits low
It seems a long time ago when Ethereum moved more money on its network than Visa.
It will be recalled that in 2021, Ethereum saw more than 11,600 billion dollars being exchanged on its blockchain , far ahead of the Visa network (10,400 billion) and especially far ahead of Bitcoin (4,600 billion).
The crypto winter persists, and Ethereum has continued to navigate in a zone between $900 and $1200 for several weeks. But while buyers have for the first time made a tangible breakthrough against sellers, trading volumes are still at rock bottom.
Based on data from the specialized portal etherscan.io , it is estimated that almost 1,680 billion dollars were exchanged on the network during the second quarter of 2022. Almost half as much as in the second quarter of 2021 !
Crypto-winter and Ethereum's drop in traffic
The drop in traffic on the Ethereum network is flagrant with less than 415,000 active addresses over the last days of June . You have to go back to November 2020 to find such low values.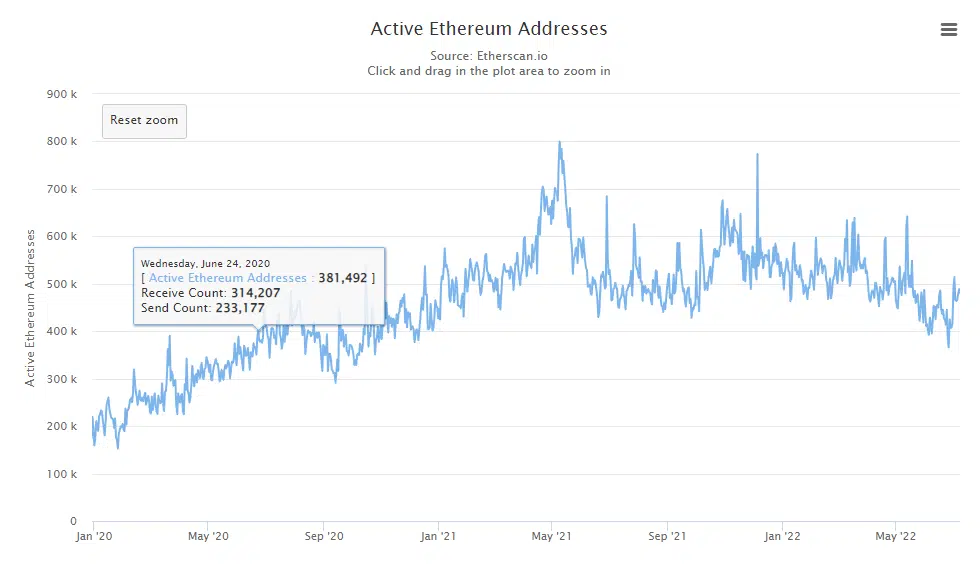 June also saw several yearly lows in the number of daily transactions. As with the number of active addresses, daily transactions fell below the symbolic million for the first time on June 26.
Again, you have to go back to November 2020 (November 29: 993,930) to find equivalent values.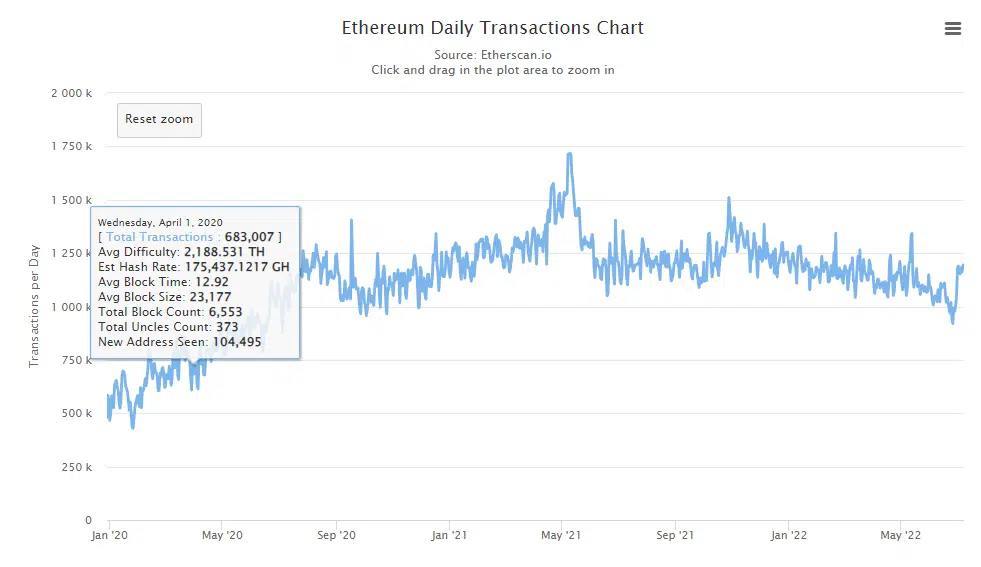 Unexpectedly, this drop in liquidity on ETH also benefits users. As we told you recently, the cost of transactions on Ethereum has dropped considerably in recent months, reaching $0.40, a far cry from the $60 you had to pay in May 2021.
(Let's set aside the statistical aberration of May 1 , when fees jumped to $200 in the first virtual land sales from Otherside, Yuga Labs' metaverse.)
Burns, staking and The Merge: several factors at play?
Where does this persistent drop in liquidity on Ethereum come from? First of all, it is obvious that the drop in volumes traded is not exclusive to Ethereum, but rather a basic trend on all crypto markets .
Prices are falling, and buying investors are showing up much less than during the best months of the last bull run .
Then it may be necessary to make a connection with the long-awaited passage of Ethereum to proof-of-stake. Indeed, the number of ethers locked on the Ethereum 2.0 staking contract is breaking records, peaking at more than 13 million ETH. Clearly, more than 10% of ethers have been withdrawn from circulation !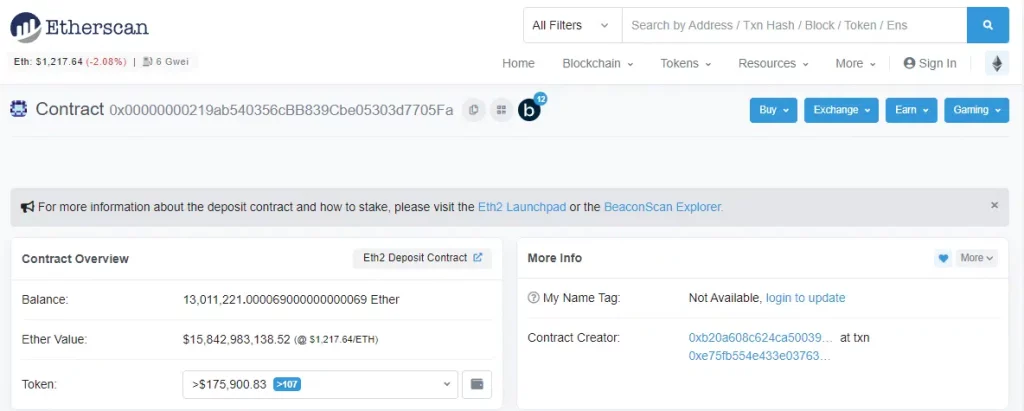 13 million ETH already locked (source: etherscan.io)
Finally, the drop in liquidity on Ethereum is also due to the burn mechanism implemented in August 2021. Due to the EIP-1559 update, approximately 3.10 million ETH must in principle be burned out of the 5.40 million produced each year by the miners.
Since January, no less than 2.40 million ETH have been burned.
The combined influence of these factors leads us to believe that the decline in trading volumes on Ethereum is not about to stop. At least until The Merge , scheduled between August and November.