A new cryptocurrency could soon rise parabolically: Cosmos Coin (ATOM). One industry observer even calls Cosmos Coin (ATOM) the most important cryptocurrency of all. What does that mean for the price?
Does Cosmos have a future?
Numerous traders and analysts have recently been expecting strong price gains for a crypto currency called Cosmos Coin (ATOM). In fact, Cosmos has been demonstrating tremendous strength for a few days : the blockchain project was able to grow more than 35% within the last seven days, within 24 hours it was almost 4% (data from Coinmarketcap.com). (Also Read: Ethereum: Burned more than 1 billion US dollars since hard fork "London")
Yesterday, on September 18, Cosmos Coin (ATOM) also hit a new all-time high of $ 41.34 . ATOM is currently trading at $ 39, so it is happily pumping the Cosmos network – and the upward trend could continue, various industry observers believe. (Also Read: Polygon (Matic) Price Prediction: Bulls are struggling to overcome a trend line)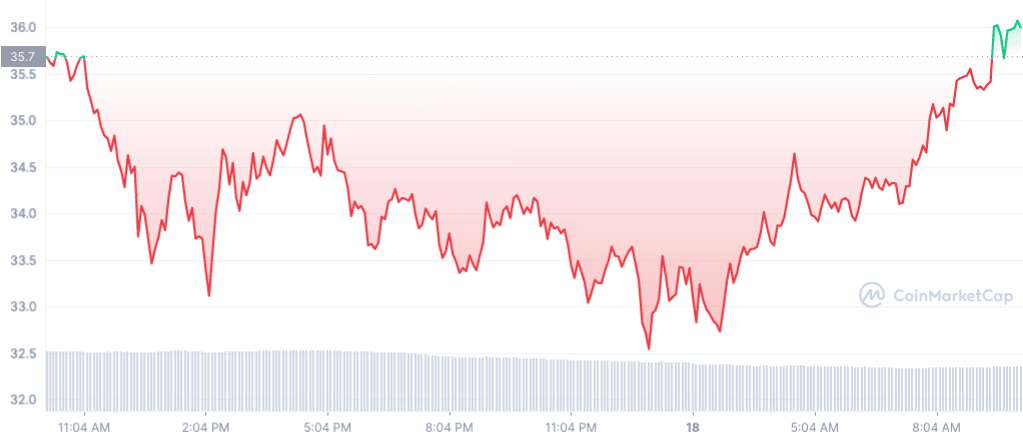 For example, full-time trader Michaël van de Poppe (@CryptoMichNL on Twitter) comments: Cosmos Coin (ATOM) could almost double its value from here.
"ATOM could go up to $ 70."
$ATOM could run to $70. pic.twitter.com/lyXfPuFMVO

— Michaël van de Poppe (@CryptoMichNL) September 10, 2021
Poppe is not alone with his bullish stance on Cosmos. Many colleagues are similarly positive, such as the popular pseudonymous KALEO (@CryptoKaleo on Twitter). He writes to his more than 382,000 followers:
"I can't believe I haven't even mentioned ATOM here recently. [To be honest] probably because I had FOMO that I didn't [accumulate] enough. As much as I believe in LUNA, of course I also believe in the Cosmos ecosystem. Currently at [dollar all-time high]. Should see $ 50 + soon. "
Can't believe I haven't mentioned $ATOM once recently on here. Tbh I think it's because I've had FOMO that I haven't stacked enough. As much of a believer as I am in LUNA, I'm obviously a believer in the Cosmos ecosystem. Currently at USD ATH. Should see $50+ soon. pic.twitter.com/TkNA2Tv6hu

— K A L E O (@CryptoKaleo) September 12, 2021
What is Cosmos Atom?
According to "Guy", the pseudonymous moderator of the popular YouTube channel Coin Bureau, Cosmos Coin (ATOM) could even become the most important cryptocurrency on the market – even before Bitcoin. (Also Read: Crypto market in Africa grows by 1,200 percent in one year)
According to Guy, Cosmos is potentially so valuable because it fulfills an important task within the crypto ecosystem, namely: to let different blockchains communicate with each other in a decentralized way. Cosmos has progressed so far with regard to this so-called interoperability that the coin could become the market leader in this area, according to the Youtuber in a current analysis:
"Cosmos is probably one of the most important, if not the most important, cryptocurrency projects out there. This is simply because cryptocurrencies are doomed to fail without widespread interoperability. "
He also gives a price target for Cosmos Coin : Like the pseudonymous analyst Mr. Pepper , he expects at least 100 dollars.
Cosmos Forecast: Market Sentiment

The more, the merrier and so the more the experts, the more the opinions for Cosmos (ATOM) price predictions:
News: Based on our price predictions, a long-term increase is expected at Cosmos (ATOM) price, the prognosis for 2026 is $130.699 based on the current movements. With a 5-year investment, the revenue is expected to be around +683.94% in the cryptocurrency market.
Wallet Investor
According to our Cosmos forecast, the ATOM might trade around $24.62 by the end of 2021 and $50.79 by 2025.
Digital Coin Price
Based on the current price and our ATOM price predictions data, the Cosmos (ATOM) price has been on an uptrend for the past 1 year. Our price predictions take several variables into accounts such as volume changes, price changes, market cycles, and similar coins. Future ATOM/USD price is predicted at $33.863784 after a year according to our forecast.
GOV Capital
Based on our ATOM price predictions, the maximum value might be around $13.52, a minimum price of $10.90 by the end of 2021. The average Cosmos (ATOM) price for December 2021 might be $11.99. Cosmos price forecasts at the end of 2021 might be around $12.64.
Long Forecast
The Cosmos (ATOM) price is forecasted to reach $14 by the starting of December 2021. The expected maximum price is $17.765, minimum price $12.080. Based on our ATOM price predictions and analysis, The future price of this coin might cross $14.212 by the end of this year.
Trading Beasts
According to Redditors' price predictions, the ATOM price is set to surpass the expectations in the upcoming years. By 2025, the Cosmos (ATOM) price will breach the mark of $60.082.
Reddit Community
Cosmos (ATOM) price predictions, the ATOM/USD will spike up and reach a price range of $26.84, eventually potentially scaling even to a whopping $1 trillion market cap as a result of the rise in demand for DeFi asset in the next five years to come by traders.
CoinSkid
According to news and our ATOM price prediction, a lot of ATOM projects are in the pipeline awaiting release. Right from the beginning concept search phase to the testing phase and by the end of the year, a lot of new projects would have been completed, hence, all-around bullish price predictions of crossing an all-time high of price $21.0400 creating more opportunities to trade, buy cosmos making it a profitable investment.
Coin Price Forecast
Cosmos Price Prediction 2021
Updates will push the scalability of the Cosmos network to 1,00,000 transactions per second moving the blockchain from energy-intensive methodology. The network is super popular with numerous projects built on it, given the advancements are maintained we can see ATOM soar to $30 making it an all-time high.
Cosmos Price Prediction 2022
With multiple partnerships & collaborations and community funding, the market looks back at ATOM to perform reaching a level of $38, which is quite optimistic but surely feasible.
Cosmos Price Prediction 2023
With any changes in Govt. policies and regulations, the ATOM price may have its share of hazy days. If ATOM price holds the support at the 100 SMA firmly, buyers will then have ample time to sell Cosmos for gaining profit and stability. By the end of 2023, the predicted high of ATOM might be around $42.
Cosmos Price Prediction 2024
Racing up to climax will not be hence so difficult for Cosmos price as additional short-, medium-, and long-term price targets can be found to buy or sell ATOM. Starting with a minimum of $50 in the long term it may cross $55.
Cosmos Price Prediction 2025
ATOM/USD though plummeted but based on predictions and resistance level one of the most bullish on-chain metrics in favor of ATOM is the significant increase in the number of coins deposited into the contract. Cosmos (ATOM) price is set to show promising signs reaching a zenith of $60 by the end of 2025.