Litecoin price crosses a head and shoulders pattern, hinting of an upcoming breakout.
A decisive close above the neck line at $ 191.20 will kick off a 26% ascent to $ 243.07.
A breakdown of $ 165.28 will create a lower low, invalidating the bullish thesis.
Litecoin price is on the penultimate leg of a technical formation that will catalyze a rapid bullish rally. LTC must clear a critical hurdle to start a race at levels last seen over a month ago.
Litecoin price has been following a slow but steady uptrend since October 13 and is approaching an inflection point. From September 7 to October 19, LTC implemented three separate swing lows. The central is deeper than those on each side and forms the head. In contrast, those on either side of comparable depths are called shoulders. Together, this price action is known as the head and shoulders.
A trendline drawn through the highs of these swing lows results in a neck line or horizontal resistance at $ 191.20. This technical training provides for a rise of 26%, determined by adding the distance between the neckline and the lowest point of the head. Adding this metric to the break point at $ 191.20 reveals a target of $ 243.07.
While this theoretical goal for the price of Litecoin is plausible after achieving a decisive close above the neckline, it will face obstacles at $ 212.26 and $ 232.68 before reaching its goal. . Therefore, the price of Litecoin needs to break these blockages to reach a 26% ascent to $ 243.07.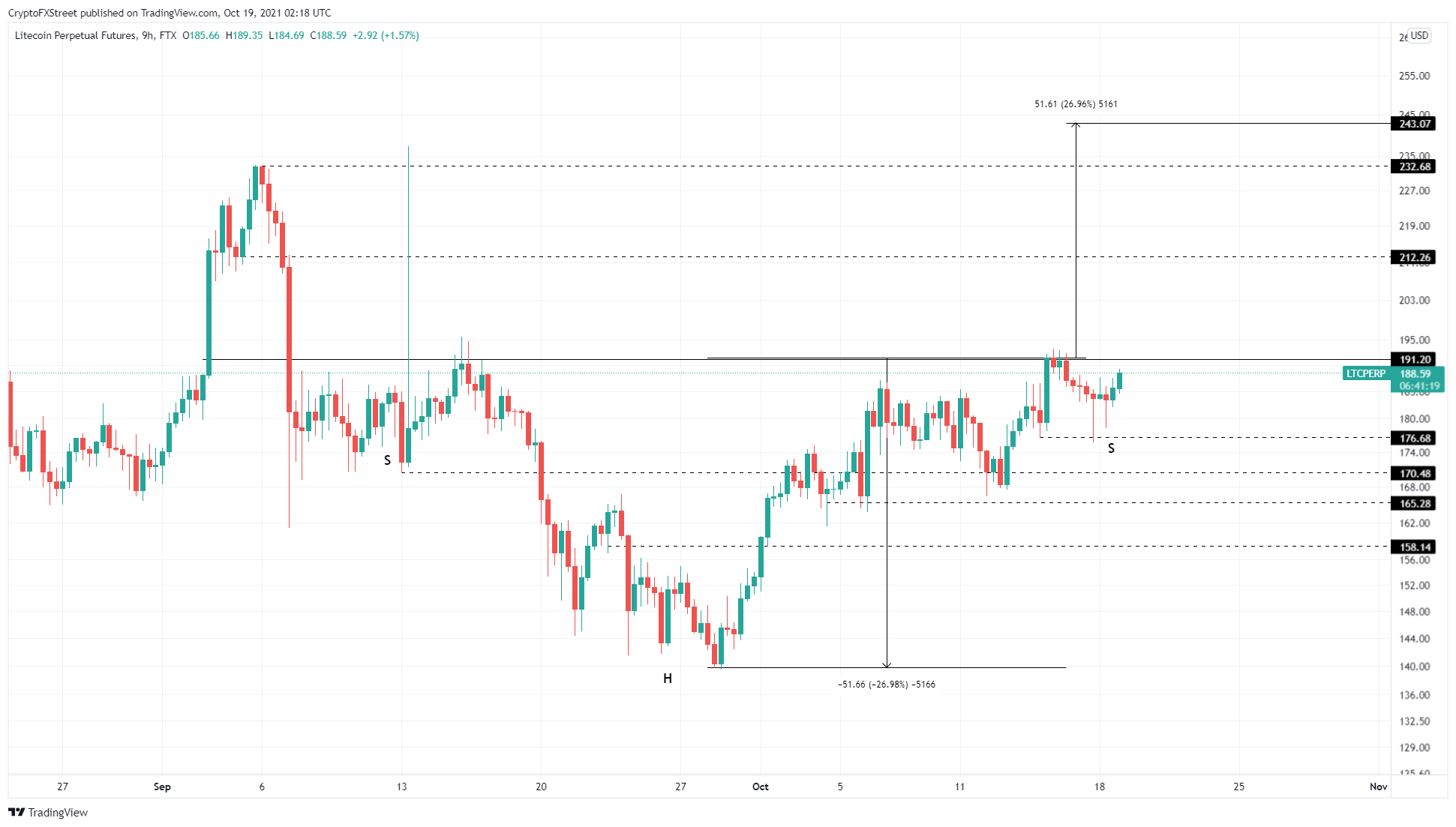 9 hour LTC / USDT chart
On the flip side, the price of Litecoin might not produce a breakout above $ 191.20 from its current position. Investors should expect LTC to re-test the support lows of $ 176.68 or $ 170.48 before proceeding to break the neckline.
If the price of Litecoin does not rebound to $ 165.28, it will jeopardize the recovery. A lower low below this barrier will put traders in a difficult position and invalidate the bullish thesis. In such a situation, LTC is likely to drop and retest $ 158.14 or other support floors.
Litecoin Price Predictions: How It could go in 2021 and Beyond
Litecoin cryptocurrency was up by more than 140% in 2020. In 2021, LTC showed very fast growth till May; however, due to some external factors, the situation significantly changed. The Litecoin price has been through a lot from its launch – going up and down. Its price started at about $3 per LTC and has gone through a number of bubble cycles or "alt seasons."
Eventually, Litecoin closed 2020 at $124.69 (on CoinMarketCap). From December 31st, 2020, to May 9th of this year, the price rose by 211%. After it hit the $400 level, the coin started dropping. From the period between May 10th and 23rd, it declined by 63.26%. Similar to other cryptocurrencies, one of the big reasons for such a fall is the overall weakness of Bitcoin. In general, similar and close currencies have tight correlations. It could have been seen that due to the fast growth of the LTC, the coin would have declines. Lastly, the concerns in the United States for higher capital gains taxes played a role in the financial industry.
As for the long-term Litecoin prediction, the outlook suggests that Litecoin has potential. Will the price of Litecoin go up this year and in the years to come? Let's find out!
A Bit of Litecoin History
Litecoin (LTC) is a so-called digital peer-to-peer currency integrated into open-source software. Technically, the Litecoin project is very similar to the Bitcoin system. Litecoin production and transmission are based on an open-source encryption protocol. There is no central control. With this in mind, all transactions, balances, and expenses are managed by a peer-to-peer network. Litecoin is created on the basis of a cryptological hash function, which in turn generates blocks. Litecoin can be exchanged for Bitcoin and fiat money. The processing in question usually takes place via online exchanges (cryptocurrency exchanges).
Litecoin was created by a former Google employee, Charlie Lee, in 2011. The cryptocurrency was created based on the Bitcoin protocol but differs in terms of the hash algorithm used. Furthermore, it also differs in hard caps, block transaction times, and some other factors. Litecoin was released via an open-source client on GitHub on October 7, 2011. On October 13, 2011, 5 days later, the Litecoin network went live.
Lee's goal was to create a light version of Bitcoin with Litecoin. Developers have always stated that you can consider Litecoin to be the silver version of Bitcoin. Litecoin differs from Bitcoin in the prioritization of the transaction confirmation rate, which is approximately 2.5 minutes per block. However, the reality is that Litecoin users will have to wait up to about 30 minutes for their transaction to be processed due to network congestion.
Why Is Litecoin an Attractive Investment Asset?
Litecoin is especially faster at handling payments than Bitcoin and is an excellent, proven complementary alternative. It's a very cheap, super-safe highway for making payments – especially when it comes to micro-transactions, like, for example, when paying for a cup of coffee. In addition, the Litecoin community is working on the implementation of all kinds of new fintech gadgets that are actually intended for Bitcoin. Litecoin is now working on the implementation of the lightning network protocol and applications for smart contracts and privacy (including confidential transactions & MimbleWimble). Litecoin is certainly light and cheap, but above all in good hands with fantastic ambitions. Litecoin has a bright future as a classic and reliable altcoin.
Most investors see Bitcoin as gold and Litecoin as silver. Litecoin was developed as an alternative to Bitcoin and developed as a lightweight that solved some shortcomings of Bitcoin. It is a classic altcoin with more than 6 years of experience and development behind it. Software updates and new tech can be easily added to Litecoin.
As with Bitcoin, there is also a built-in scarcity. In total, only 84 million Litecoin can be mined. Litecoin can be considered a much cheaper and faster alternative. In fact, Litecoin is underestimated relative to other cryptocurrencies. Bitcoin is slower and more expensive to use compared to Litecoin.
The fact that Litecoin is fast and cheap has advantages, especially since people in third world countries without bank accounts can still get Litecoin cheaply and quickly.
Why is Litecoin going up?
Litecoin is a superior alternative to fiat money when compared to Ethereum. Ethereum was not developed as money, but it can certainly be used as such. You could rather consider Ethereum to be crypto gas.
In addition, Ethereum is a much more difficult concept to grasp than Litecoin. Litecoin is just digital p2p money with a built-in scarcity that actually works faster as a transaction medium. This makes adoption much easier and does not require much knowledge. Simply install the wallet app on your smartphone, and you will have your own Swiss Litecoin bank account with which you can actually conduct transactions almost immediately. As the popularity and price of Bitcoin increase and, therefore, the transaction costs rise, cheaper and faster alternatives will be sought. This is Litecoin, baby.
Other Interesting Facts
Litecoin has made a lot of progress and has even been included as a means of payment in Venezuela's mainstream international payments system. Via the Remesas remittance platform, foreigners can send Litecoin to family members and friends in Venezuela who receive Bolivars in their local bank account through Remesas. A commission of 15% is charged, which means that the government in Venezuela secretly collects Litecoin.
Another interesting fact is that the Litecoin Foundation has a 9.9% share in the German WEG bank. The Litecoin Foundation has received this as a donation from the Swiss blockchain company TokenPay. Together they have almost a 20% share in this conservative German bank, mainly for real estate investors. Litecoin can thus be recognized in the long-term as a possible cryptocurrency for buying real estate in Germany? But we digress, so let's not dive too deep into the matter, look at the price history, and see how the coin develops.
Litecoin Price Analysis
Despite it not being a bullish period for cryptocurrencies until around October 2020, Litecoin has performed reasonably well compared to its competitors. Charlie Lee is clearly doing really well; he finally introduced confidential transactions (CT). Like the privacy coins ZCash and Monero, LTC's confidential transactions will prevent replaceability, scalability, and privacy issues.
The acceptance rate is also quite high. Very recently, the Litecoin logo was even advertised on the UFC mat during a famous fight. It was a real eye-catcher. Furthermore, a new shopping center in Singapore with an ATM that accepts both Bitcoin and Litecoin has been installed. LTC price prediction is very optimistic in the opinion of experts.
Experts expect the Litecoin future to be bright in 2021 due to all integrations and partnerships. In addition, the Litecoin community is very active, with all the upcoming developments. They will, of course, keep the enthusiasts informed. There is a clear potential that Litecoin will rise further and is certainly a tough competitor for the other cryptos.
However, LTC's price will most probably stay below $300 and is less likely to hit its all-time high, $412.96, which was set on May 10, 2021. What will Litecoin do in the next 5 years?