Crypto broker Voyager Digital conducted a survey of retail investors in the United States. The result showed that ADA cryptocurrency is better than BTC in terms of possible medium-term growth prospects.
Cryptocurrency ADA is more promising than BTC
The Digital Asset Investor Sentiment Survey, first published by Decrypt, shows:
31.9% of surveyed investors believe more in the growth of Cardano;

only 22.2% chose BTC over ADA.
The results come after Cardano hit an all-time high of around $ 1.5 last month. This allowed the coin to briefly become the fourth-largest crypto-asset by market capitalization.
Steve Ehrlich, CEO of Voyager Digital, said:
"Of course, everyone is talking about bitcoin these days, but that Cardano got ahead of it was a really big surprise for us."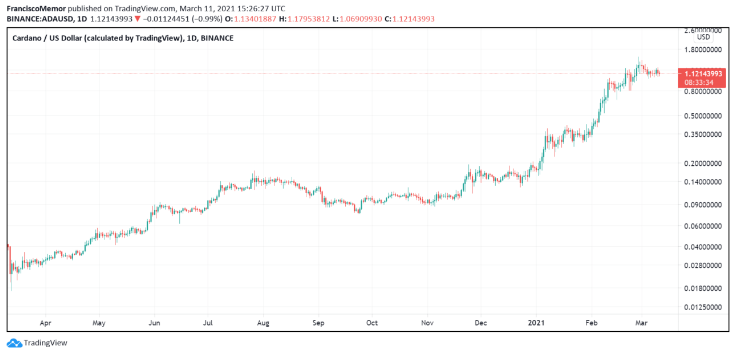 Ehrlich added that this sentiment "demonstrates the enthusiasm" of users towards cryptoassets. In addition to BTC, investors are positive about Ethereum (12.2%) and Polkadot (6.3%). According to the CEO, the results also show an interesting thing. The diversity of the cryptocurrency ecosystem has grown as investors have more assets to choose from.
A poll of 1,385 investors in the United States showed. Most of them expect the bitcoin price to trade between $ 51,000 and $ 60,000 by the end of this month. Well, 80% of respondents plan to buy more BTC within a month.
60% of respondents believe that bitcoin and other digital assets have more growth potential than:
gold (8%);

shares (6%);

top-tier government bonds (1%).
Reasons for the popularity of ADA
The results of the survey regarding Cardano were expected. The rise in cryptocurrency prices by more than 500% this year has caught the attention of retail investors. Because an investor who bought ADA for $ 1200 would now receive over $ 40,000.
Crypto-related inquiries have surpassed the 2017 high and continue to grow. Google is tracking them to figure out which cryptocurrency is currently the focus of retail investors.
This year, the ADA has risen from about $ 0.17 to $ 1.11 at press time. And this is after the coin is correcting from its new high around $ 1.5.
Whales buying up cryptocurrency contributed to the rise in ADA prices. For example, the cryptocurrency investment fund FD7 Ventures (Dubai) announced the sale of bitcoin in the amount of $ 750 million to increase its positions in Cardano and Polkadot.
Last month, Gene Simmons, the iconic bassist for the popular rock band Kiss, announced that he has invested $ 300,000 in Cardano (ADA). And this is shortly after the announcement of positions in other cryptocurrencies, including BTC, ETH and DOGE.