Solana knows no stopping. Now the coin is also attracting professional investors. Can that go well?
Solana is the trader's favorite. Investors are currently looking at the new shooting star in the altcoin sky on SOL, like no other coin. No wonder: Most recently, the proof-of-stake coin silenced all critics with its dream performance. SOL has brought a whopping 268 percent onto the streets within the last 30 days. In doing so, he beats the Altcoin competition by far. For comparison: The second best coin in the race for the, well, most valuable coin after Bitcoin, was Polkadot (DOT) in the same period – with "only" 63 percent growth. (Also Read: Bitcoin bulls are running again towards $ 50,000)
As has now become known, the rapid rise of the smart contract platform could well have been fueled by the institutional side. The crypto asset manager CoinShares writes:
Digital investment products saw total inflows totaling $ 57 million last week, making it their fourth week of inflows.
Of that $ 57 million poured into crypto-based digital asset investment products this week, such as the Grayscale Bitcoin Trust, $ 49.4 million went to Solana products. With 86 percent, SOL accounts for the lion's share of institutional interest. It seems that a considerable part of the capital comes from direct competitors. Because while Solana attracts investors, the same ethers turn their backs. Ethereum loses around 6.3 million US dollars in capital, as CoinShares writes. Bitcoin saw only shallow inflows of $ 200,000.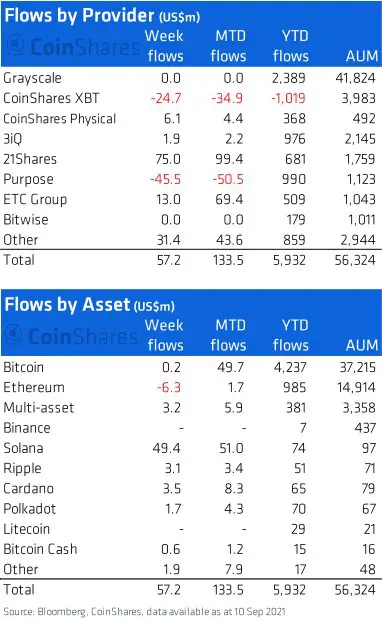 Bitcoin and Ethereum remain relevant
If you zoom out a little further, you get a different picture. Bitcoin and Ethereum may be giving way to altcoins these days. For the year as a whole, however, they are still the absolute top dogs on the market. With 4.2 billion US dollars, BTC is the undisputed winner in terms of fund flows and even beats second-placed Ethereum (985 million US dollars) by far.
A certain herd mentality is not uncommon in crypto-land. There are always hype coins; Unfortunately, private investors come to the party too late and are annoyed about supposedly easy money that has been left by the wayside. Whether Solana can hold its own against Ethereum as a smart contract platform in the long term remains to be seen at this point. In any case, Solana has hardly been used as a DeFi platform so far; only around 6 percent of the DeFi volume is accounted for by the protocol .
The crypto sector occasionally drives colorful drives. All too often, however, ascents like Solana's were snapshots.
SOL Price Prediction: An Expert Forecast
While some of the experts, as well as crypto forecast platforms, analyze a conservative angle to predict, others make a forecast based on more realistic and optimistic trend, for instance:
It entirely depends on the currency's movement and its fundamentals. The SOL price might trade around $65 by the end of 2021.
Reddit Community SOL Price Forecast
Based on our SOL price prediction, a long-term increase is expected; the prognosis for 2026 is $574. With a 5-year investment, the revenue is expected to be around +1300%.
Wallet Investor Solana Price Prediction
SOL has a promising future. It may get marginally impacted, but bulls will be back, and by the end of 2021, its price may skyrocket to $199.
Sol Coin Price Forecast
As per the NEO predictions done by Long forecast, the price of the coin is expected to reach around $106 by the end of 2021.
Long forecast for SOLANA Price Prediction
The NEO prediction conducted by GOV CAPITAL states that the coin would hover around $103 by the end of 2021.
GOV Capital SOL Price Forecast
Solana entered the year 2021 with a trading price of $1.60. On a bullish note, the altcoin started to rise further. By the end of 2021, it might trade around $20 and anticipate to reach up to $120 in the future.
Coinpedia SOLANA Price Prediction
SOL currency seems to be showing positive momentum. The bulls will push it up like the other crypto giants too. It may trade around $60, and by the end of 2026, it might cross $122.
Digital Coin Price
Solana Price Forecast: 2021-2025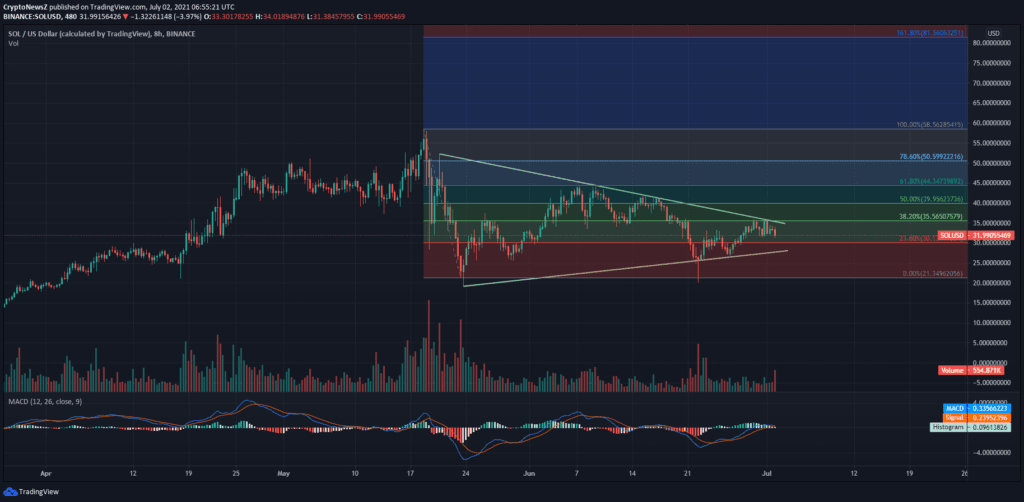 Today, the SOL price stands around $158 with a market cap of $47,080,895,381 and a current trading volume of $3,173,890,558. The price forecasts of various cryptocurrency experts do not deter Solana from outperforming the rivals by any means. The Solana community has set higher benchmarks for its prices, notwithstanding.
Solana shall surpass the expectations of all cryptocurrency investors who have found this platform extremely interactive and uncomplicated. According to the recent news updates, another important launch of SOL's exchange is set to unveil soon in the market, which multitudes of exchanges would back with a proof of stake feature.