Polkadot (DOT) is a blockchain and layer-0 protocol that envisions a multichain future for Web3. Its aim is to connect specialized blockchains into a unified network, allowing secure communication across chains and creating the foundation for an interoperable decentralized web. With a focus on scalability, interoperability, and security, Polkadot continues to develop and deploy new solutions to achieve its vision of a decentralized future that protects individuals' digital information from central authorities.
As the native token of the Polkadot network, DOT has drawn the interest of traders who anticipate a bullish sentiment. However, as the crypto market evolves, DOT prices may fluctuate over time. To gain a better understanding of the Polkadot network and DOT's price analysis and prediction, let's examine the forecast for 2023, 2024, 2025, 2026, 2027, 2028, 2029, 2030, and beyond.
What Is Polkadot (DOT)?
A blockchain platform called Polkadot was created to make it easier for various blockchain networks to communicate with one another. By enabling the seamless collaboration of several specialized blockchains, it aspires to build a more interconnected and scalable blockchain ecosystem.
The Polkadot network is made up of a relay chain that links a number of para chains, each of which has its own distinct capabilities and characteristics. The architecture of Polkadot gives greater freedom for creating decentralized applications, as well as potential advantages like faster speed and lower costs. After being introduced in 2020, the idea immediately became well-liked by investors and developers.
Polkadot (DOT) Historical Price & Market Analysis
Polkadot, currently ranked #11 among cryptocurrencies, is trading at $6.80 with a market capitalization of $8.00 billion and a circulating supply of 1,177,170,062 DOT. Over the past 24 hours, the price has increased by 1.24%, while over the past week, it has gained 6.69%, offering investors a promising return on investment. In the last 30 days, Polkadot's price has risen by 5.66%, pushing the market capitalization to $8.00 billion. While the past 90 days have seen a rise of 12.69%, adding $0.765948 to its previous value of $6.04. As for investing, waiting for a bear market may be a good idea if you're considering buying Polkadot today.
Polkadot (DOT) Price Analysis – Relative Strength Index
The Relative Strength Index (RSI) is a momentum indicator that helps identify the current trend of price movement and whether it is in the oversold or overbought region. It is a valuable tool for traders to determine the right time to buy or sell tokens. Typically, an RSI reading below or at 30 indicates an oversold region, suggesting a potential price correction. Conversely, an RSI reading above or at 70 is considered an overbought region, indicating a possible price decline.
Also Read: Unveiling SOL's Thrilling Future: 2023 Stock Price Prediction
DOT's Relative Strength Index (RSI) is currently at 63.19, indicating a strong trend as it falls between the 50 and 70 range. Additionally, the RSI has recently crossed the SMA and is trending upwards, further confirming a bullish sentiment. If this upward trend continues, the RSI may enter the overbought region, potentially leading to a price correction.
However, the current candlesticks are positioned above the upper Bollinger Bands, suggesting a potential upcoming fall in price. As a result, there's a possibility that the RSI may reverse its trajectory and not reach the overbought region.
Polkadot (DOT) Price Analysis – Moving Averages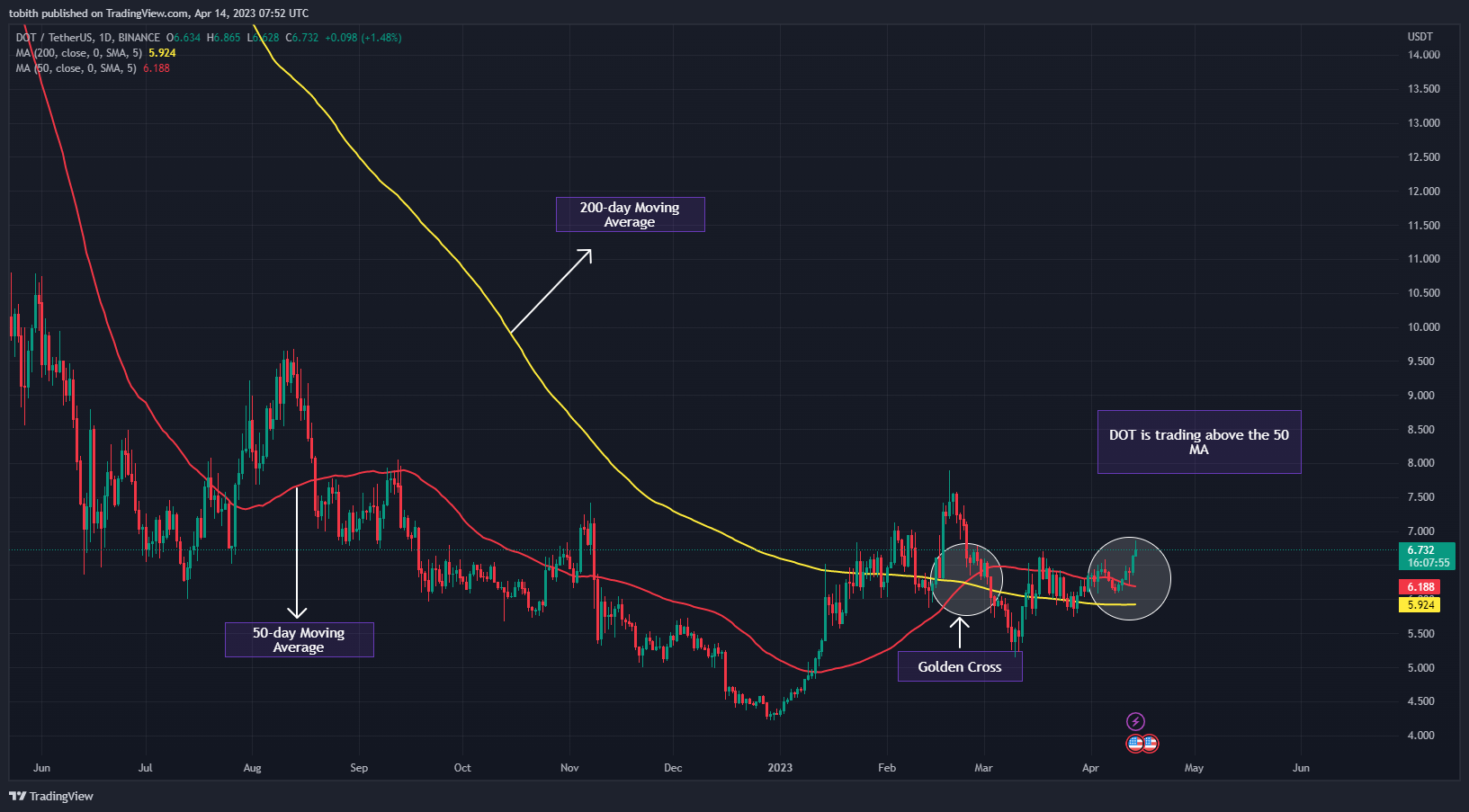 Currently, DOT is trading above both the 50 MA and the 200 MA, suggesting a bullish sentiment. The 50 MA crossed the 200 MA earlier, marking the beginning of an upward trend during the golden cross formation. However, the narrow gap between the two moving average indicators raises the possibility of a death cross formation. Widening the gap between the moving average indicators confirms the start of a bullish trend.
Polkadot (DOT) Price Prediction 2023 – 2030 Overview
Polkadot (DOT) Price Prediction 2023
Upon analyzing the chart, it is evident that DOT is currently exhibiting a bullish sentiment and is trading between the Weak Low region and the Resistance zone. The MACD has confirmed this bullish trend, which could push the price of DOT upwards with a slight possibility of touching the Resistance level. If the bullish trend continues, there is a high probability that the altcoin could reach a Strong High position. However, traders are advised to monitor all indicators closely, as there is a likelihood of a price correction in the near future.
Polkadot (DOT) Price Prediction 2024
2024 is expected to be a historic year for cryptocurrencies with the Bitcoin halving event. Traders have noticed that altcoins usually follow BTC's upward trend. DOT is also likely to be influenced by the Bitcoin halving and could potentially surpass the $17 price level by the end of 2024.
Polkadot (DOT) Price Prediction 2025
Many trade analysts predict that the after-effects of the Bitcoin halving could still affect DOT's trading price, which is anticipated to surpass its 2024 value. As with many other altcoins, DOT is likely to continue its upward trend in 2025 and establish new resistance levels. Some market observers anticipate that DOT could reach or exceed the $24 level in the future.
Polkadot (DOT) Price Prediction 2026
It is anticipated that the bearish sentiment will impact cryptocurrencies after a long bull run. DOT may tumble into its support regions, but the oversold region could result in a price correction. After the correction, DOT could surpass the $32 resistance level by the end of 2026.
Polkadot (DOT) Price Prediction 2027
Traders anticipate a bullish sentiment in the crypto industry following a bearish market. DOT is predicted to rise after the bear season and could break more resistance levels. As a result, DOT could trade at $39 by the end of 2027 as it continues to recover from the bearish run.
Summary
The Polkadot (DOT) cryptocurrency is expected to experience a bullish market sentiment in 2023, according to trade analysts. Despite the potential for a price correction during a bearish season, DOT is expected to continue rising and even break more resistance levels. By the end of 2027, DOT is predicted to trade at $39. The crypto industry is expected to be positively impacted by the implementation of Web3 technology, which could further boost the potential of DOT. Traders are advised to closely watch DOT's indicators and consider factors such as the Bitcoin halving, as it could have a significant impact on the crypto market.