VPNs are used today for a lot of things: hiding the IP address, encrypting data, bypassing geo-restrictions, unblocking blocked sites and applications … But if there is one use that is becoming widespread, it is that of using VPNs with Netflix. Indeed, a VPN for Netflix allows you to access more content and change Netflix country .
Unfortunately, not all VPNs work well on the platform. Many people get blocked and fail to effectively unblock foreign catalogs. In this article, we are going to introduce you to the 3 best VPNs for Netflix that are performing very well in 2021.
Ranking of the Best VPNs for Netflix in 2021 :
ExpressVPN
CyberGhost VPN
Surfshark VPN
NordVPN
Private Internet Access
Below, we present details of each of them. We will also discuss the principle of VPN and why Netflix does not allow all VPN publishers to access its content.
Top 3 Best VPNs for Netflix
There are hundreds, if not thousands of VPN providers today. Obviously, not all of them work to unblock Netflix and only the best will succeed in achieving their mission.
Obviously, we directly exclude free VPNs which are automatically blocked and which, in addition, have a bandwidth limit, preventing you from watching streaming videos.
But what exactly does it take to find the best VPN for Netflix in 2021? The latter must:
Unlock many countries (NONE unlocks them all)
Offers excellent flow rates
Has no bandwidth limit
Offers a stable connection
Be compatible on all major devices
Here you have the 5 essential qualities that we find with the best of the best VPNs for Netflix.
Without further ado, here is our selection of the 3 VPN providers that work perfectly for unblocking Netflix and accessing other catalogs:
1. ExpressVPN – the best way to access Netflix
If you are looking for the crème de la crème for Netflix then look no further, you have found it. ExpressVPN has been known as the best VPN for Netflix for years. It works to unlock a lot of countries. There are more than ten of them at the moment, including the USA, Japan, Canada, France, Germany, Australia, Brazil, UK, etc.) and the procedure for accessing these foreign catalogs is as easy as pie.

Known as the fastest VPN, ExpressVPN offers a great streaming experience , with no buffering. This is particularly important, especially if you intend to connect to very distant servers, such as the USA or Japan for example. With a lower quality VPN, you would constantly have buffering issues (you know, the little circle spinning in the middle of your screen 😉).
ExpressVPN is also very stable and has no bandwidth limits. In other words, you can use it to watch 10TB of streaming videos per month, if you want. This contrasts very clearly with free VPNs which rarely exceed 10GB monthly.
If you enjoy watching Netflix on multiple devices, you won't be disappointed with ExpressVPN. Indeed, the latter works on Mac, Windows, iOS, Android, Android Smart TV and even directly on some compatible routers. You will also be able to use your subscription on 5 devices at the same time.
As the best VPN for Netflix in 2021, ExpressVPN covers 94 countries with over 3,000 servers. You have 24/7/365 customer support via online chat to answer all your questions (such as telling you which VPN server to choose to unblock Netflix in a specific country) and accompany all of its subscriptions with a guarantee of 30 day refund.
Moreover, by using the link below you will be able to take advantage of 49% reduction and 3 months free on its 1 year subscription. Enough to make the best VPN for Netflix even more attractive.
TAKE ADVANTAGE OF THE EXPRESSVPN OFFER
2. CyberGhost VPN
Another top VPN for Netflix in 2021 is CyberGhost. This highly competitive VPN ( see its best special offer for JDG players here ) works great for Netflix.
Although it does not work for as many countries as ExpressVPN, it will still manage to unblock the main countries that might interest you (France, USA, Italy, Germany, UK, Japan). We particularly appreciate the presence of servers optimized for this activity.
Whether you are on a computer, tablet or smartphone, you will find them very easily by going to the "streaming" section and then type "Netflix" in the search bar. You will then find all the servers that are optimized to unblock Netflix.
If CyberGhost is in this selection of the best VPNs for Netflix, it is also because it offers very good speeds. Although they are, once again, a little behind ExpressVPN, they are still more than sufficient for watching movies and series in HD.
Like ExpressVPN, CyberGhost also offers a money back guarantee. If you want to test it out to see if it's your favorite VPN for Netflix, you can do so, risk-free. At any time after 45 days after placing your order, you will be able to request a full refund. Please note, the money back guarantee is only 14 days if you have opted for the 1 year subscription.
To learn more about this great VPN provider for Netflix, you can read our CyberGhost review here .
VISIT CYBERGHOST VPN WEBSITE
3. Surfshark VPN
Finally, in third position in this ranking of the best VPNs for Netflix, we find Surfshark . This young VPN launched in 2018 may not have the seniority and experience of its two competitors, but, when it comes to Netflix, it has nothing to envy them.
Indeed, it unlocks more than 10 Netflix catalogs in a rather remarkable way. But then, why is he not at the top of this ranking?

The answer is very simple: Surfshark still has quite a few stability issues and doesn't offer the best speeds. So be careful, when we say that these are not the best speeds, it is still quite acceptable. We just have to compare against other players, like ExpressVPN and CyberGhost, which still offer a higher level of service.
Despite everything, for a young VPN that is very inexpensive, Surfshark is doing very well and really deserves its position in our comparison of the best VPNs to unblock Netflix in 2021.
You'll also have an unconditional 30-day money-back guarantee, allowing you to try out its services and make up your own mind. In 2021, Surfshark is truly one of the best VPNs in our opinion.
VISIT THE SURFSHARK VPN WEBSITE
Why would you want a VPN for Netflix?
There are many benefits to using a VPN for Netflix. So yes, it will allow you to watch Netflix in your workplace without your boss realizing it, but that is not the crux of the matter.
Indeed, a VPN for Netflix will allow you to access bookstores in other countries. As you may know, Netflix does not offer the same content in all countries. Everything is linked to broadcasting rights. Netflix buys the rights to broadcast a series or film for a defined period of time and in a defined geographic area. As a result, it often happens that countries are better off than others when it comes to movies and series on Netflix.
Contrary to what one might think, it is not because a country is bigger or has more inhabitants that it will have more content. The example of the United States is quite striking. In the country of origin of Netflix, many films and series are not available although they are in Canada, France, Germany or Australia. How to explain it? It is very simple !
In fact, many TV channels and streaming platforms (Hulu, HBO, Amazon Prime…) are fighting to recover the broadcasting rights for series and films to offer a wide choice to their users. The more platforms there are in competition, the greater the risk of having a sparsely stocked Netflix library. This is what we see in the United States – contrary to belief.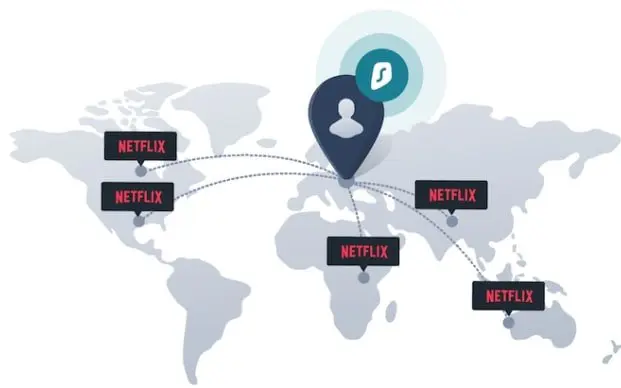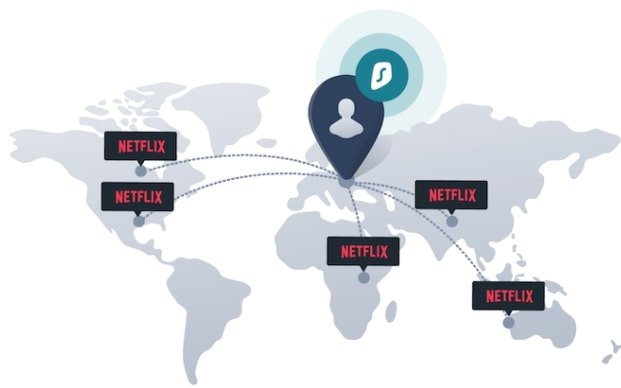 On the other hand, you will still manage to find movies and series that are not available on Netflix France. But the interest of using a VPN for Netflix will allow access to many other more complete catalogs such as that of Canada, Japan or the United Kingdom.
For people who are uncomfortable with English, using the best VPN for Netflix will allow you to continue accessing the French catalog when you are abroad.
In short, not only will you have more content, but in addition you will always be able to have Netflix in the language and the subtitles of your choice.
DISCOVER THE BEST VPN FOR NETFLIX
How does Netflix determine which catalog we have access to?
No, it is not based on the country in which you opened the account. A lot of people believe this, but it is wrong. If you subscribed in France and then go to the United States, you will then have access to the American catalog of Netflix.
So how does Netflix tailor its content to your location? It's simple, it's based quite simply on your IP address ( see our guide to changing IP ). It is the latter which locates the geographical position of the device with which you connect to the platform, and, in fact, displays the appropriate catalog.
This is where VPN comes in … but you might already know that if you are looking for the best VPN for Netflix in 2021. VPN apps do indeed allow you to change your IP address and, this fact, its location on the net in less than a minute.
What if your VPN no longer works to access Netflix?
Before concluding this article, it is essential to remember that the Netflix platform is fighting a real battle to counter VPN software. To do this, Netflix relies on the IP address of the subscribers and checks that it is not an IP belonging to a VPN server. Once found, access is denied and you will not be able to view the desired content.
Netflix may take a long time to detect VPN IP addresses and blacklist them. This is why you can access Netflix one day and more the next. While no one is immune to these kinds of (nasty) surprises, opting for one of the best VPNs for Netflix recommended above minimizes this risk.
If, however, this should happen, you can first try changing servers and clearing your web browser's cookies before returning to the Netflix page.
As a last resort, you can contact customer service and let them know about your problem. The technical teams can then direct you to the most suitable VPN server to go to a given Netflix library.
Is using a VPN for Netflix legal?
Using a VPN in France and many other European countries is legal. Nothing prevents you from watching streaming content by connecting to a VPN.
That said, the issue of VPN for Netflix is ​​more complex given that this application makes it possible to bypass the geo-blocking set up by the SVoD platform. By avoiding this filter, it is as if you are also bypassing the legislation of the territory. It's up to you to draw your conclusions …
In any case, to this day, Netflix has not yet banned users on the pretext that they are using a VPN and it is an activity practiced by many.
Conclusion: ExpressVPN, the number 1 VPN for Netflix
If you are looking for a reliable, stable, fast VPN that does a good job of unblocking Netflix, ExpressVPN really is the best solution. No matter which device you plan to use it on, this VPN with 12 years of experience has shown over the years that it has mastered the use of its service for Netflix to perfection.
While it's not the cheapest, it's the best option right now. Thanks to its 49% reduction and 3 free months, it is even more accessible and you will enjoy more than 30 days satisfied or refunded without conditions.
Although ExpressVPN is the best VPN for Netflix in 2021, that does not prevent its two competitors, CyberGhost and Surfshark, are still doing very well. These are two great alternatives should ExpressVPN ever disappoint you for one reason or another.
DISCOVER EXPRESSVPN