The famous American pizza chain wanted to celebrate the iconic video game in a decidedly original way, thanks to augmented reality and a QR code.
Ordering a pizza is one of mankind's favorite activities, we say it without fear of sounding exaggerated. In the United States, then, it is a kind of religion, even if from our point of view it is a heretical religion, given that between pineapple pizza ( which, however, can become excellent in the right hands ), pepperoni and various amenities, the various chains made in the USA have made our hair stand on end more than once.
 But patience. Pizza is part of Americans' life and also of their childhood memories. Pizza Hut is one of the most popular chains and the children raised in the Eighties jealously guard in their memory the afternoons spent in the chain's restaurants with the whole family, between a bite of pizza and a game of arcade video games. Pac-Man is one of the most loved games of all time and among other things it was born from a slice of pizza, as told by its creator Toru Iwatani . 
 Today Pizza Hut has found (alas, only in America) a very original way to celebrate this nostalgia of Pac-Man arcade version. It did so by creating a partnership with developer Bandai Namco Entertainment, giving the possibility to shoot the video game directly from the pizza take-away cartons, in a special limited edition that uses augmented reality . To get the limited edition you have to order the $ 10 Tastemaker , a large pizza that can be customized by choosing three toppings from a list of 680 options (we don't even want to know which ones …).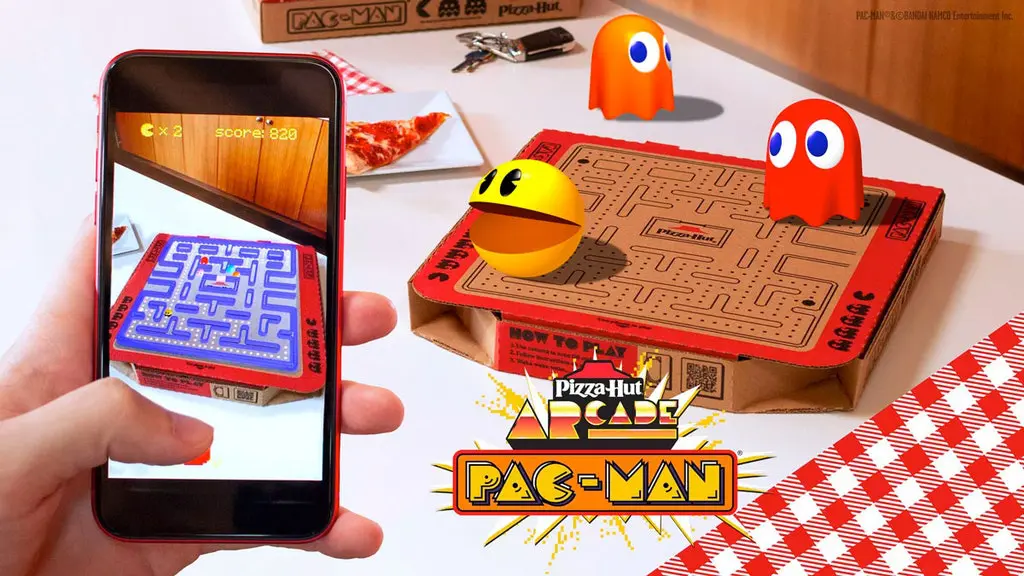 Just scan the QR code on the takeaway carton, without downloading any app, and it will magically transform into the classic Pac-Man maze. In addition, Pizza Hut will give the opportunity to enter a contest (which should work by sharing the score obtained from the games played in AR on Twitter) to win a custom Arcade 1Up arcade machine .