Massive Fire in Westcliff Building Contained by 50 Firefighters
A three-storey building in Westcliff was the site of a significant fire that required the response of approximately 50 firefighters. The incident occurred on Sunday at around 20:20 BST in a building located on Hamlet Court Road, situated between London Road and Anerley Road. Fire crews arrived at the scene to find the roof and top floor engulfed in flames.
According to the Essex County Fire and Rescue Service, the fire caused substantial damage to the first floor as sections of the building above partially collapsed. One individual received treatment for smoke inhalation and was attended to by paramedics.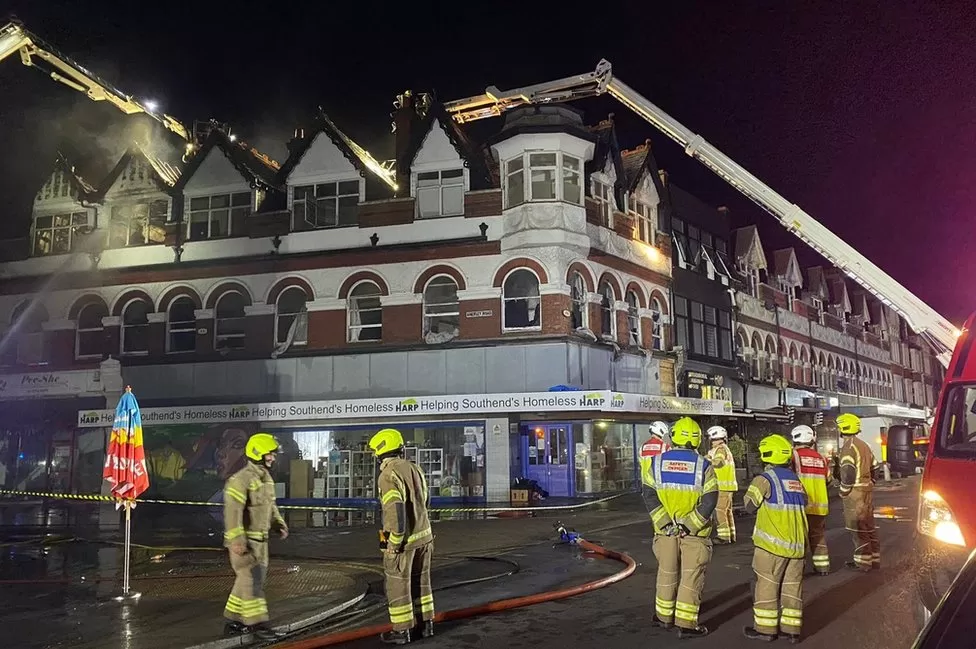 Throughout the night, firefighting teams remained on-site, urging residents to avoid the area and keep their doors and windows closed as a precautionary measure. Due to safety concerns, firefighters were unable to enter the building directly. Instead, they utilized two aerial ladder platforms and exerted considerable effort to bring the fire under control and prevent its spread.
Group manager Ben Turner reported that the unoccupied flats on the first floor sustained significant damage as a result of the roof and top floor collapsing. The extent of smoke and water damage on the ground floor is yet to be determined.