India's PM Warns Against 'Separatist Elements' Harming India-Australia Relations
Indian Prime Minister Narendra Modi cautioned on Wednesday that the actions of "separatist elements" should not be allowed to undermine the strong ties between India and Australia. His statement came after receiving an enthusiastic welcome in Sydney. While Australia has often downplayed concerns about India's treatment of opponents and minority groups, lured by economic opportunities and the desire for a counterbalance to China, Modi expressed his reservations.
Modi specifically addressed recent incidents of alleged vandalism on Hindu temples in Australia, which were attributed to Sikh separatists. Following his meeting with Prime Minister Anthony Albanese at Admiralty House on Sydney Harbour, Modi emphasized the need to prevent any actions or thoughts that harm the friendly relationship between the two countries. He revealed that discussions were held regarding the activities of separatist elements in the past. Prime Minister Albanese assured him of taking strict measures against such elements in the future.
While Albanese refrained from mentioning the temple graffiti incidents in his remarks, he highlighted a new agreement to foster exchanges between students, researchers, academics, and businesspeople from India. Previously, the Sikh diaspora staged protests worldwide in response to a manhunt for a separatist figure. This resulted in extensive police mobilization and internet restrictions in Punjab state, where Sikhs are the majority.
Albanese, the center-left leader, commended the extraordinary rally held by Modi, attended by 12,000 people at a Sydney arena the previous evening. However, he did not address the graffiti incidents that have been widely reported in Indian media and condemned previously by himself.
'Respectful' relationship
"Prime Minister Modi, a dear friend, is the boss!" exclaimed Albanese to the enthusiastic crowd of Modi supporters, showcasing his support for the Indian leader.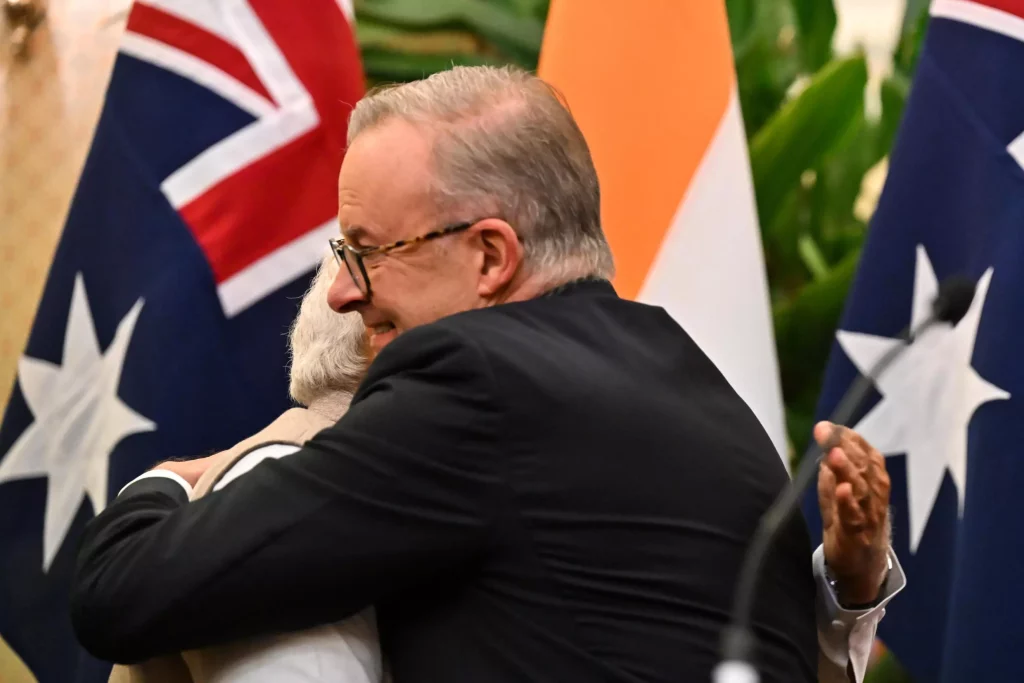 When questioned about concerns regarding Modi's alleged democratic backsliding and discrimination against non-Hindus, Albanese swiftly dismissed the accusations, stating that India is the world's largest democracy. He emphasized Australia's commitment to upholding human rights globally.
However, when asked if he intended to address these issues with Modi, Albanese maintained that he engages with individuals personally and would not disclose the details of their "respectful" relationship.
Human rights organizations argue that since Modi and his Hindu nationalist B.J.P. came to power in 2014, India's 200 million Muslims have experienced increased discrimination and violence. Elaine Pearson from Human Rights Watch asserts that under Modi's leadership, "the world's largest democracy" has regressed in freedom and become more perilous for dissenting voices.
As Australia grapples with a more assertive China, it seeks economic and political allies in an increasingly challenging region. India, with its mixed financial performance but significant poverty reduction, has emerged as the second-fastest growing economy in the G20 and a multi-trillion-dollar market.
The Indian-Australian community, comprising 673,000 Indian-born citizens, is the second-largest immigrant group in Australia after the British. Moreover, Australian universities host nearly 90,000 Indian students, forming the largest international cohort after China.