HP is exploring the possibility of a Motorola razr-style clamshell smartphone with a flexible display. Information about the new product was published on the website of the World Intellectual Property Organization.
Letsgodigital has already shown renders based on patent documents. On the renders, you can see a device that has a frameless structure. The folding system differs significantly from its predecessors in that here you can move the halves in different directions. When folded, they saved a compact strip on which you can configure the necessary notifications that are displayed without opening the screen.
The device has neither a fingerprint scanner nor a front camera. This means that the corresponding components can be hidden directly behind the screen. There is no information yet on when HP may introduce a commercial smartphone with a similar design.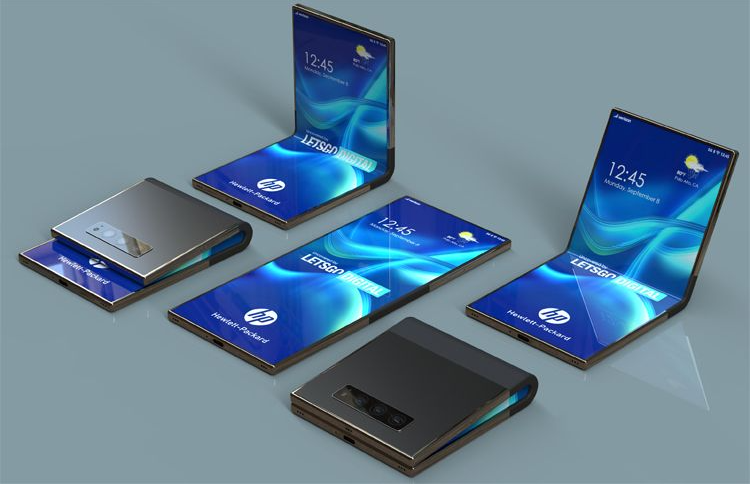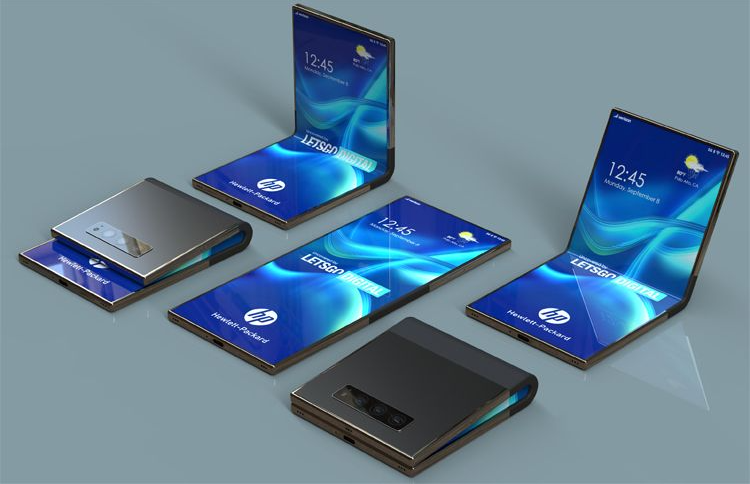 The foldable phone from HP has a flexible flat screen. It is an OLED screen with touch screen functionality that is inside the device when it is closed. As a result, the developed technology can be applied to both a folding smartphone and a folding laptop with a folding screen.
The documentation mainly deals with solving problems related to using a flexible display. Because when performing a folding movement, the length of the inner surface changes with respect to the outer surface. This means that you run a considerable risk of damage when you frequently fold and unfold the display panel, according to the patent description.
To overcome this problem, HP wants to use a stretchable (  auxetic  ) structure that thickens with pressure. Most materials get thinner when you remove them, which would be at the expense of durability. Suitable materials for this are different types of rubber, foam or fiber. These can be attached in various ways (eg, as an adhesive) to the flexible display panel to promote the operation of the folding process, also in the long term.
HP folding devices and Windows 10X operating system
After the Elite X3, HP has not released a new  smartphone  . The main reason for this was the decline of the Windows Phone platform. However, computer makers like HP and Intel have, of course, been working with Microsoft for years and while Microsoft has parted ways with the Windows Phone platform, Windows 10X seems to offer a good alternative for dual-screen and foldable devices.
If these types of computer manufacturers really want to launch a foldable smartphone / tablet, it is certainly not inconceivable that these devices will work on Windows, rather than Android or iOS, as is currently the case with most smartphones.
However, it is still unknown when Windows 10X will be released. According to the latest rumors, the operating system will be rolled out to some screens in spring 2021. Dual-screen support is likely not available until spring 2022. The COVID-19 pandemic is said to have changed strategy. However, this will also mean that the launch of the Microsoft Surface Neo dual-screen tablet will be postponed until then, initially it was intended that the Surface Neo would launch in late 2020.
Either way, flexible displays seem to be the future. By choosing a foldable phone with a flexible screen, it is much easier to carry the device with you. The portability of smartphones has definitely contributed to their enormous popularity. Also, mobile phones have become more and more powerful over the years, turning them into true handheld computers.
The compact camera market has already been completely absorbed by smartphones and tablets have also lost popularity in recent years, in part because smartphone screens have gotten bigger and bigger. With the ability to fold a smartphone one or even multiple times, this handy device will increasingly pose a threat to the tablet and laptop industry. It is therefore quite understandable that PC manufacturers also want / should dive into this new market.
With the advent of flexible displays, the boundary between a smartphone and a tablet is reduced even further. Therefore, it is plausible that tablet and computer manufacturers, who traditionally feel less at home in the mobile phone market, are turning to foldable mobile devices like a flip phone, whether or not they are equipped with the operating system. Windows.
However, it cannot be ruled out that HP wants to apply this technology (first) for a foldable notebook. The first folding PC was announced earlier this year, the  Lenovo ThinkPad X1 Fold . This laptop with a 13.3-inch foldable OLED screen works with Windows 10.