Cardano is the best performing cryptocurrency this week as hype surrounding the upcoming Vasil hard fork attracts traders, developers and retail investors.
The token is up 24% over the past seven days and is trading at $0.56. It has far outperformed most of the top 50 cryptocurrencies this week.
A number of factors favored ADA's rally this week. The most important of these is that the Cardano blockchain has opened a new Ethereum bridge, allowing users to migrate stablecoin USDC to Cardano. But there has also been increased buying behavior among ADA whales, which is usually a bullish sign.
Whales give ADA recent boost
Data from blockchain analytics firm Santiment shows that the token's recent rally is due to a spike in Cardano purchases by whales. Whale activity skyrocketed on Friday as about 160 Whale wallets completed transactions on the chain in a matter of hours.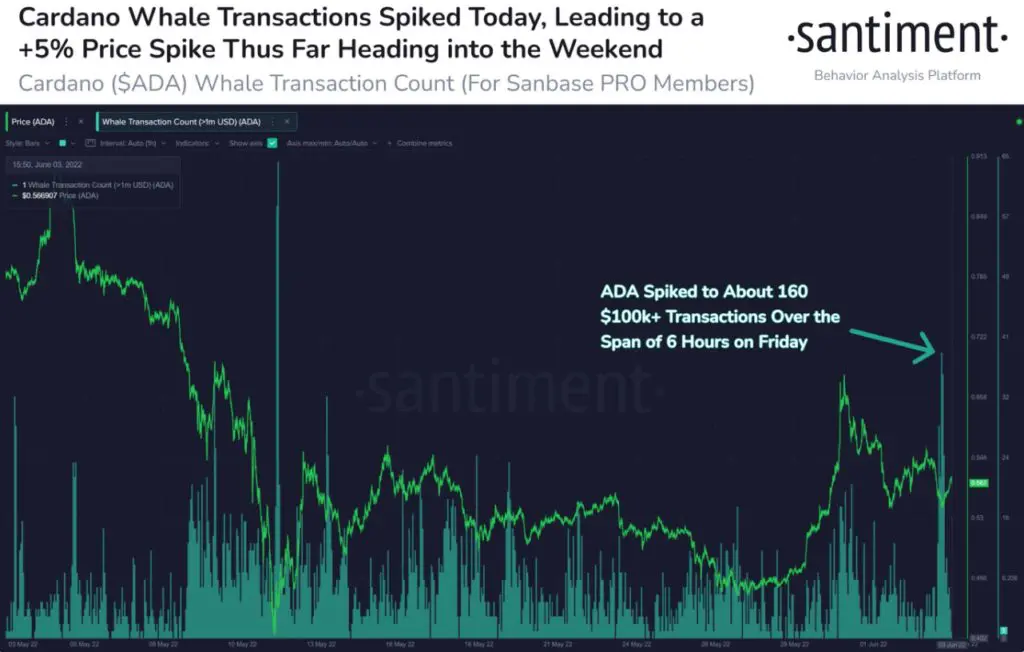 This caused Cardano price to surge as high as $0.56. Earlier in the week, ADA had peaked at $0.67. The increased interest from whales could be due to positive comments from Cardano founder Charles Hoskinson.
Data from Github shows that Cardano development activity hit a record high earlier this week. This coincided with a sharp rise in ADA prices. Hoskinson also announced new features for the blockchain to be unveiled during the Consensus conference on June 9th.
Hoskinson expects blockchain development activity to ramp up ahead of the Vasil hard fork. The fork is widely expected to be a substantial upgrade to the blockchain, as leading developers say it will greatly improve the user experience of developing on Cardano.
Developments in the pipeline
Cardano's development team is working on a full peer-to-peer network to get one step closer to the ideals of decentralization. For all its skepticism about algorithmic stablecoins, Cardano is going all out with Djed, a blockchain-based stablecoin named after Djed, the symbol of stability in ancient Egypt.
"Djed is the first stablecoin protocol for which stability claims are concisely and mathematically stated, proven and formally verified," said Cardano developer Sooraj. "The Djed rule algorithm behaves like an autonomous bank, buying and selling stablecoins at a price within a range pegged to a target price."
Decentralized applications (DApps) have grown astronomically since the introduction of smart contracts on the network. The number of dapps on the network is expected to double over the next few months. A consolidated view of DApps is currently being built to aggregate and certify projects built on top of the ecosystem.
Significant work has been done on the scaling issue, with Orbis building the first ZK Rollup L2 solution for Cardano. The network is rumored to be working on a light wallet in addition to the wallets already launched.
The combination of these new innovations may have played a role in ADA rising to become the second most used crypto asset. According to StakingRewards, ADA has ousted SOL, AVAX, DOT and BNB and now ranks second behind ETH with a market cap of $13.4 billion.