3 Reasons why the bull will go on a rampage
The year 2020 might have been the worst year for us however it was a golden year for cryptocurrency. The year saw ETH give 4.5x returns, Bitcoin testing its ATH and breaking it.2020 was the year when Bitcoin went mainstream with institutional investors dipping their hands in the crypto gold.
But what lies ahead? Will crypto bubble burst just like the internet bubble of the '90s or will it attain new heights?
---
Here are 3 Factors which will make ETH price rise up to $3,000 soon
1) Cryptocurrency Guidance For Banks
The Office of the Comptroller of the Currency(OCC) published Interpretive Letter 1174, which explains banks may use new technologies, including independent node verification networks (INVNs) and stablecoins, to perform bank-permissible functions, such as payment activities.
A bank may use stablecoins to facilitate payment transactions for customers.
In doing so, a bank may issue stablecoins, exchange stablecoins for fiat currency, as well as validate, store, and record payments transactions by serving as a node on a blockchain (INVN).
This is big for the ETH community as stablecoins are Ethereum tokens designed to stay at a fixed value, even when the price of ETH changes. By using stable coins you are literally using ETH as network infrastructure.
2) ETH 2.0
Ethereum 2.0 has been long-anticipated and much discussed in the blockchain ecosystem. Proof of stake and sharding will bring considerable improvements to scalability, security, and accessibility. For ETH holders, Ethereum 2.0 provides a new opportunity to participate and receive rewards for maintaining the network.
The most important advantage of Ethereum 2.0 is its scalability. Ethereum 2.0 will have shard chains due to which it can conduct up to 10,000 transactions per second whereas Ethereum can support only 30 transactions per second. This also leads to a lot of delays and network congestion which will not be the case in Ethereum 2.0. The implementation of shard chains speeds up the network and can scale more easily as the transactions are handled in parallel chains instead of consecutive ones.
3) Stimulus Package
"The Biden stimulus may add an extra jolt to bitcoin's price, but nothing more than pushing along a barreling freight train," Jehan Chu, managing partner at Hong Kong-based crypto investment firm Kenetic Capital, told CoinDesk.
The bitcoin price, boosted along with equity markets by massive government stimulus measures throughout 2020, the last year climbed back to its 2017 all-time highs of around $20,000 per bitcoin.
A similar trend can happen as the new POTUS plans to give a stimulus boost to the economy which will be 3 times the last package at around $2000.
---
Ethereum Price Prediction: Support and Resistance level which are critial
Which support levels are critical?
The weekly chart shows that the market is accelerating. However, investors and traders should anticipate a potential correction to occur soon, as nothing goes up in a straight line.
In that case, Fibonacci can also be used to define support areas. The primary support zone to test is the region between $775 and $825, the 0.35–0.382 Fibonacci level. This support zone is confluent with the rejection of that level in April 2018.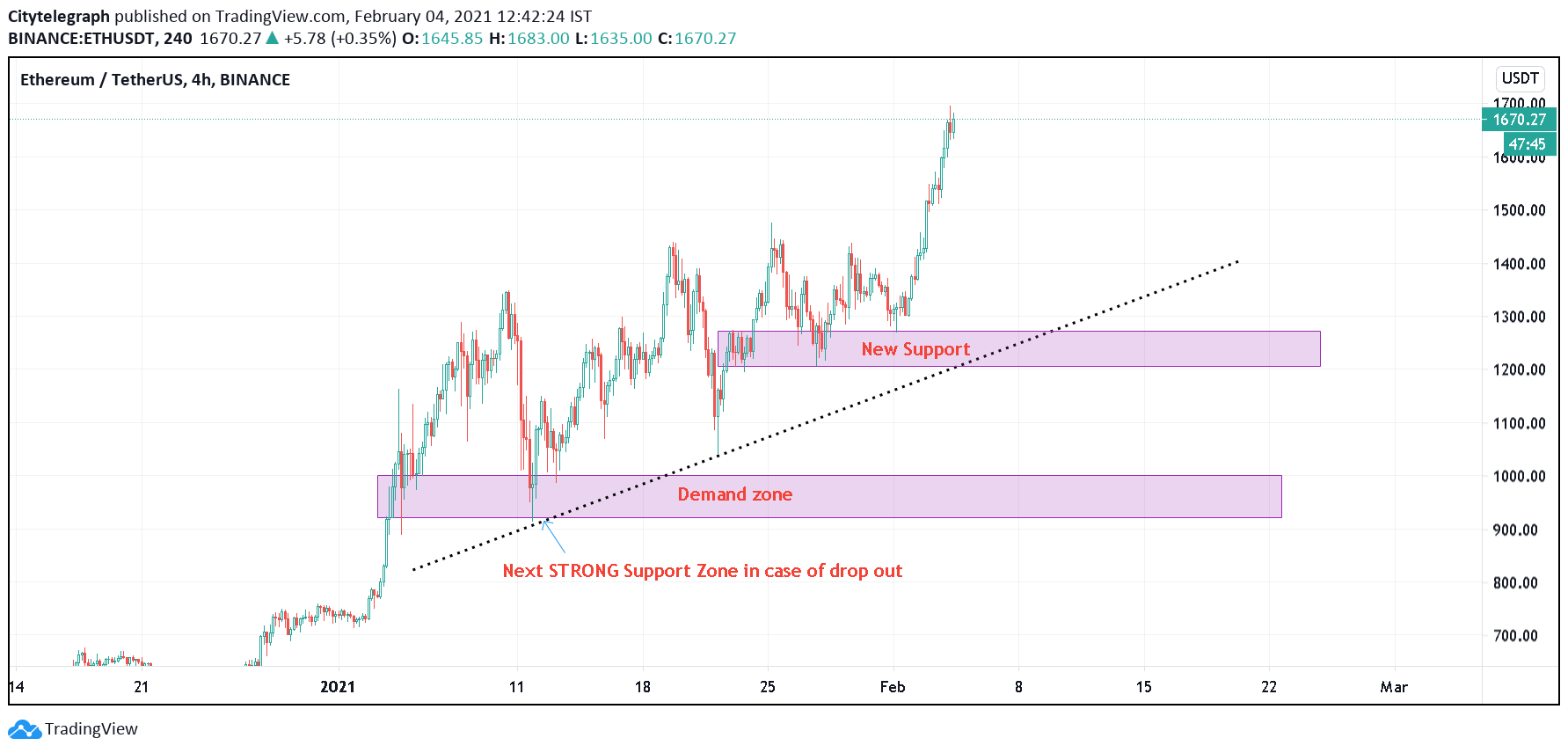 If that level doesn't provide enough support, a further correction toward the order block around $600 becomes likely. Such a correction would be massively painful for the market and cause the price to drop more than 50%, which seems unlikely at this point.
Key near term support for ETH/USD
The lower time frame chart shows an apparent surge, with the drawn trendline continuously serving as support.
In such a way, the trendline itself is a massive indicator of further upward and downward momentum. If this trendline fails to sustain support, downward pressure seems inevitable.
In that case, if the trendline fails to hold, the $1,120–$1,130 area should hold. If not, Ether is back in the previous range, and a test at $950 will then be in the cards.
The bullish case, however, is new all-time highs for the price of Ether if this trend line remains intact.
"Calling someone who trades actively in the market an investor is like calling someone who repeatedly engages in one-night stands a romantic.The stock market is designed to transfer money from the active to the patient."-Warren Buffet
---
Must Read: