Fintech company Ripple has transferred 40 million coins of XRP, which is estimated at about $ 20 million. Meanwhile, the main defendants in the SEC lawsuit against the giant Ripple (Garlinghouse and co-founder Larsen) are seeking to get a lawsuit. According to them, the expedited proceedings will force the regulator to dismiss the claim.
Ripple transferred XRP to Bitstamp
According to the tracking service Whale Alert and XRPscan, Ripple crypto behemoth transferred 10 million XRP. The first recipient was the registered RL18-VN wallet. It is often used to sell XRP tokens. It was previously reported that this is one of the alleged additional wallets. Funds from it are used to curb the growth and sale of tokens.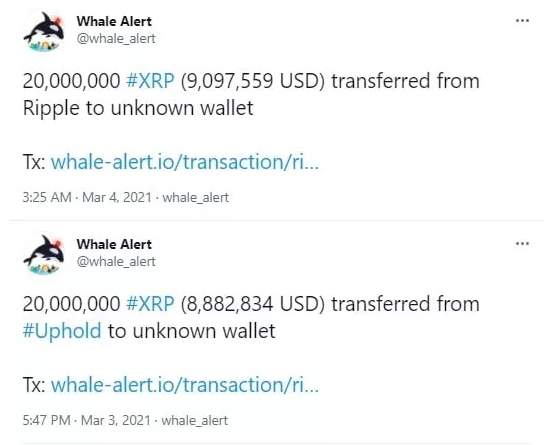 The second transfer was made by the Uphold crypto exchange to Bitstamp, the largest EU-based trading platform in Luxembourg. It acts as a kind of liquidity corridor for Ripple. And, accordingly, it fills the order books with volumes, which excludes manipulation of the Ripple price. An equal amount of 20 million XRP was sent in each of these transfers.
Ripple filed motions to refuse to initiate legal action
Today, the lawyers of Brad Garlinghouse, the current head of Ripple, held a press conference for journalists. They said they had sent a letter to federal judge Analysis Torres. The document on behalf of the CEO sets out a request to dismiss the claim initiated against him by the US regulator at the end of last year 2020. The letter says that the claim from the SEC should be considered as "regulatory abuse of power."
Chris Larsen, the former CEO and co-founder of Ripple, filed a similar letter to the judge. It states that the SEC was unable to prove that Larsen was aware of any legal issues that might have arisen regarding the XRP relationship when it was sold to investors.
In the letters sent, the lawyers also echoed one of their long-standing arguments. Namely, it was indicated that FinCEN (a network created to fight financial crimes) designated XRP as a virtual currency back in 2015.
According to lawyers, the SEC deliberately delays the proceedings. Therefore, if the case goes to court as soon as possible, it will simply fall apart. As a result, Ripple's lawyers are actively pushing for a legal review. They note that the SEC has no compelling reasons, and therefore simply seeks to starve Ripple out. Because officials know what a big shadow fell on the company in connection with this high-profile accusation.