The ripple price rises and rises and rises. Although the rally in the Bitcoin price has slowed down a bit and it is fighting the resistance at $ 60,000 again, there are no signs of weakness in XRP.
Yesterday we reported that the cryptocurrency, also often referred to as "bank coin", is heading straight to $ 1.30. In the meantime, however, XRP has left the level far behind and is currently trading at $ 1.43.
The reasons for this sharp increase can be read in yesterday's article here . Today we are more interested in what could happen next and what price targets known traders suspect.
At the moment it doesn't seem like the rally is slowing down, quite the opposite. There is too much bullish news on the agenda right now , like the Coinbase IPO on April 14th , so it is very likely that the almost complete crypto market will continue to rise in the coming days.
There is increasing talk of the popular "Bankencoin" being ready to hit its all-time high of around $ 3.80. Well-known traders even Ripple critics suspect when looking at the chart that XRP is heading straight for new highs.
An announcement from the crypto exchanges Coinbase, Kraken or Binance could boost the whole thing. If they decide to list XRP again, the price will experience a direct push. After the SEC announced that crypto exchanges have no responsibility in connection with the "sale of unregistered securities", this move on the part of exchange platforms is very likely.
This could further fuel the run of XRP and lead directly to new highs. ( Should you buy Ripple (XRP) right now? Crypto Price Prediction Update April 2021 )
Ripple rate from $ 2.60 through April 18th
The very precise trader and analyst Kaleo released a chart update this morning. According to his analysis, XRP will continue to increase in the next few days, exceeding a price level of $ 2.60.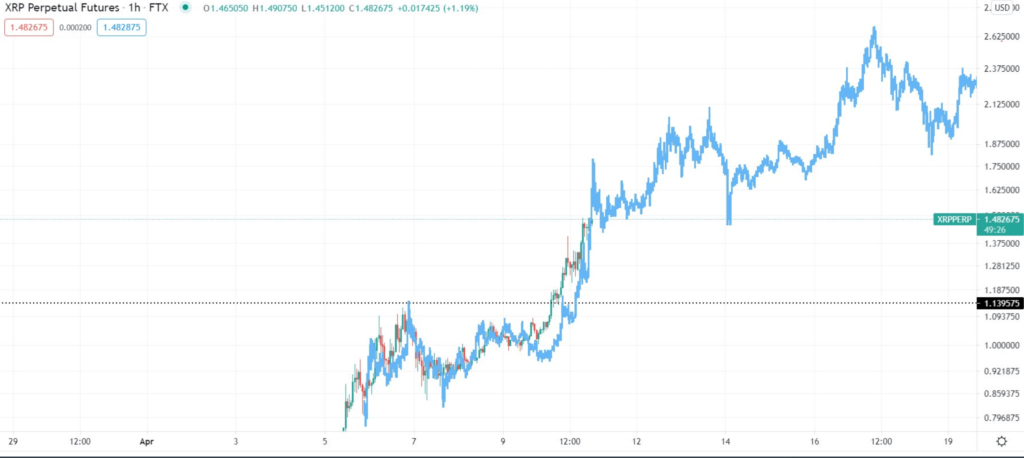 The chart shows that the XRP price development is almost identical to its assessment. If this forecast turns out to be true, we can expect another steep increase in just a few days. 
So it remains exciting about Ripple and the native token XRP. We will keep you up to date on new developments from the SEC and news about the "Bankencoin".