The preparation of this breakfast classic is very easy, I promise. You don't even need a recipe – just this guide.
As a kid, I first learned how to make French toast. I originally liked my French toast to be extra sweet. I stirred the maple syrup and vanilla extract into the egg and milk mixture before soaking the bread. And then poured extra butter and syrup on each serving.
French Toast: Works sweet and savory
Now my French toast preferences have expanded. Sometimes I stir bourbon whiskey into the egg-milk mixture. When it's done, I eat it with yogurt and fresh fruit (raspberries are my favorite). Sometimes I season my French toast with nothing more than salt, pepper and nutmeg, put melted cheese on each slice and eat it for dinner. And sometimes I let off steam and fill my French toast with jam, chocolate, cream cheese – whatever I can find. 
The truth is, you don't really need a proper French toast recipe to make French toast. (Or, as the French actually call it, pain perdu, which translates to "lost bread".) And when you're making French toast, you can get really creative with the ingredients as long as you follow six basic steps. Here I will show you how to make the best French toast at home.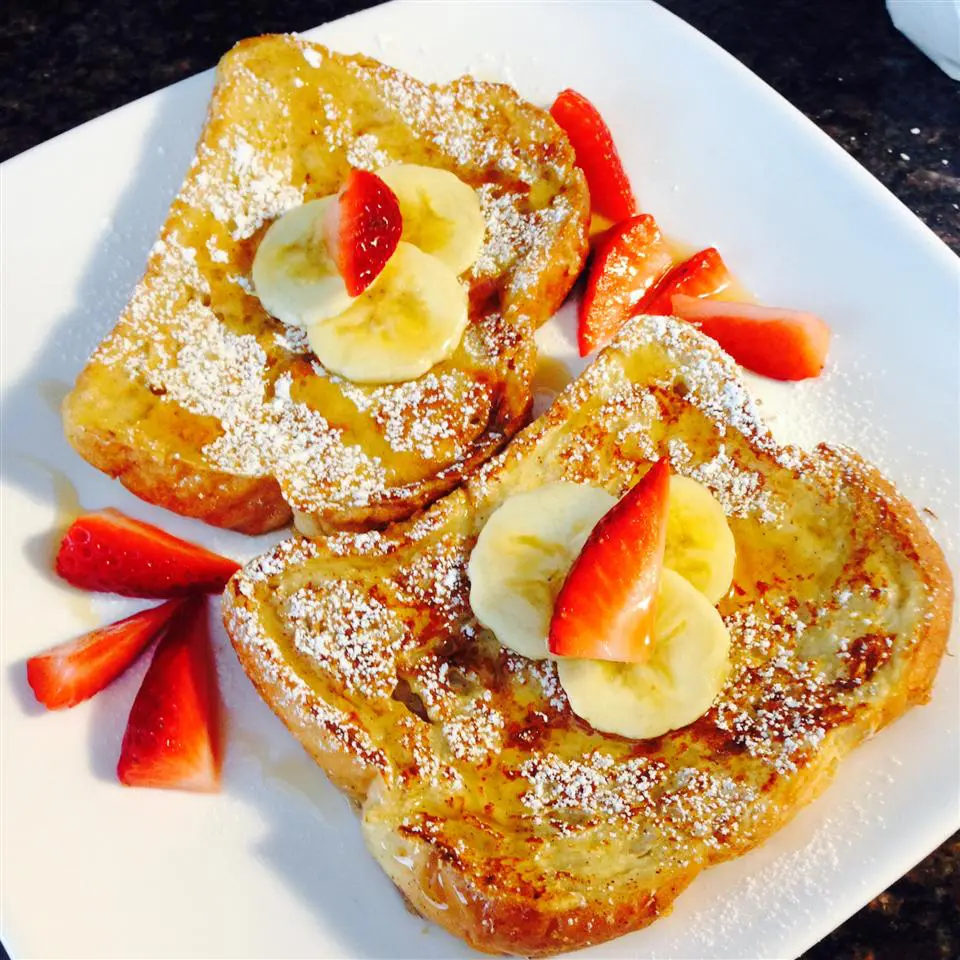 In 6 steps to the perfect French toast
1. Choose your favorite bread and cut a few slices from it
French toast can be made from most types of bread. But the thicker and heartier the loaf, the better it absorbs the eggs and milk. Sourdough, challah, and brioche are all classic French toast options. Use bread that is a bit old (ideally a day or two). 
Stale bread soaks up the egg mixture better and results in a crispy outside and a fluffy inside (the ideal French toast!). There is one bread to avoid. And that's normal white bread, like packaged, pre-cut sandwich bread, which tends to soften and fall apart. 
2. Prepare the egg mixture
In a wide, shallow bowl, whisk the eggs and milk together. The bread is later dipped into this egg-milk mix. As a general rule: one egg per one or two slices of bread and a generous dash of milk (about ¼ cup) per egg. You can use any type of milk (skimmed milk, whole milk, etc., or non-dairy options like cashew milk, oat milk, or almond milk). You can also replace part of the milk with cream or single cream if you want to give the egg mixture a richer taste. Or you can opt for buttermilk, which gives it a tart taste. 
Whichever you choose, the liquid to egg ratio will still be around ¼ cup of liquid to an egg. And one egg for every two slices of bread. So if you want to make four slices of French toast, you need four slices of bread, two eggs and ½ cup of milk. It couldn't be easier, right?
This ratio gives the perfect consistency for my taste. But if you want your French toast to be softer, then you should add a little more milk – some recipes calculate with up to ½ cup of milk per egg. However, if you like it a little firmer, you can just use less milk. 
Whisk eggs and milk together, then add the spices. A pinch of salt and a pinch of ground nutmeg are all you need for a simple sweet breakfast. But you can also add a dash of bourbon or brandy or vanilla. You can also try adding ground cinnamon, cardamom, ginger, or allspice – or a mixture of all of these ingredients. For a sweeter French toast, add a dash of maple syrup, brown sugar, or agave nectar to the mixture. And if you want hearty French toast, add some black pepper or cayenne pepper to it.
3. Optional: The French toast filling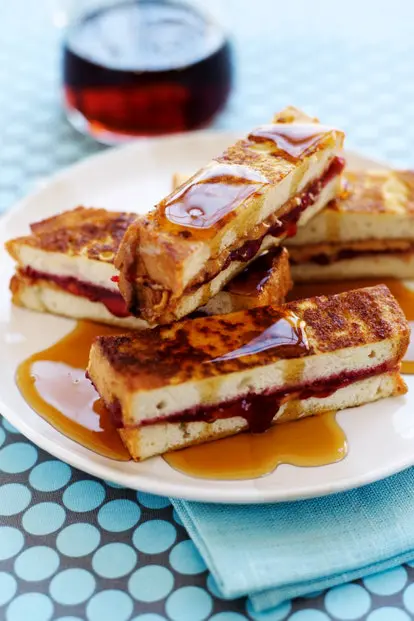 Making filled French toast is as easy as making a sandwich: Spread whatever you want in your French toast – mascarpone, jam, Nutella, peanut butter – on a slice of your favorite bread, then place another slice of bread on top. You should leave a little space on the edges of the bread so that the two slices don't fall apart after soaking. 
Note: Since two slices of bread are used for the filled French toast, the bread should be cut a little thinner. 
4. Dip the bread in the egg mixture
Take your slices of bread and place them in a shallow bowl to coat them with the egg-milk mixture. Turn this over once in the mixture so that both sides are adequately covered. You shouldn't soak the bread slices too long to avoid soaking through. 
However, some recipes call for a longer soaking time in the refrigerator. In this case, you should double the amount of egg-milk mixture because the bread will soak up more. Make sure that you use slightly older slices of bread. 
5. Fry the French toast
Melt some butter (or heat a neutral oil) in a pan over medium-high heat, then carefully place the soaked bread in the pan. Let it cook undisturbed until it is golden brown and crispy on the underside. This takes about 3 minutes.
Then turn the slice of bread with a spatula and cook the other side until it is golden brown. This will take another 2 to 3 minutes. If you have a grill plate, you can also use it for this – it is particularly practical for larger families. It is best to serve your French toast straight out of the pan. The French toast can also be kept warm in the oven on a low heat.
6. Top the French toast with maple syrup (or whatever you like)
Maple syrup, honey, sweetened yogurt, jam, powdered sugar – all of these things are good toppings for French toast. Alternatively, you can also choose the savory option and sprinkle your French toast with grated cheese as soon as you turn it in the pan. I like Gruyère, but any meltable cheese will do. 
Try cheddar, Monterey Jack, mozzarella, or fontina. The cheese should melt within the last three minutes of cooking. They start to melt the moment you taste it. 
Read More: