What is Podcast?
A podcast is a digital audio file that can be downloaded and listened to on a computer, smartphone, or other device. Podcasts are typically made up of a series of episodes, which can be downloaded or streamed on demand. They are similar to radio shows, but can be more focused on a particular topic or niche.
Podcasts can cover a wide range of topics, from news and current events to entertainment and storytelling, from education and self-improvement to business and marketing. They can be produced by individuals, organizations, or media companies, and can be either audio-only or include video content as well.
Listeners can subscribe to podcasts through a variety of platforms, such as Apple Podcasts, Google Podcasts, Spotify, and many others. Once subscribed, new episodes will automatically be downloaded to the listener's device, making it easy to stay up to date with their favorite shows. Podcasts can be a great way to learn, stay informed, and be entertained, all while enjoying the convenience of on-demand listening.
Why Podcast is Important For Brands and Marketing?
Podcasts are an increasingly popular and effective way for brands and marketers to connect with their audiences. Here are some reasons why:
High engagement: Podcasts can be a highly engaging medium because listeners often consume them during activities that don't require their full attention, such as commuting, exercising, or doing household chores. This means that listeners are more likely to engage with your brand or marketing message in a relaxed and receptive state of mind.
Niche targeting: Podcasts can be a great way to reach niche audiences that are interested in specific topics or industries. By creating a podcast that addresses the interests and concerns of a particular audience, brands and marketers can establish themselves as thought leaders and build a loyal following.
Long-form content: Podcasts allow for longer and more in-depth discussions than other forms of content, such as blog posts or social media updates. This can be particularly valuable for brands and marketers who want to provide their audiences with more detailed information about their products or services.
Brand personality: Podcasts can also help brands and marketers showcase their personality and values. By creating a show that is informative, entertaining, and authentic, they can connect with their audiences on a deeper level and build brand loyalty.
Advertising opportunities: Finally, podcasts offer a range of advertising opportunities, such as host-read ads, sponsorships, and branded content. These can be effective ways for brands and marketers to reach their target audiences and drive engagement and sales.
How to Start a Podcast STEP-BY-STEP | 2023 Complete Tutorial
Starting a podcast can be a fun and rewarding way to share your ideas, connect with others, and build an audience. Here are the steps to follow:
Choose a Podcast Topic You Can Commit To: It's easy to get hyped up about an opportunity like podcasting, however I've seen it many times before: If you don't plan ahead, you're going to be doomed.
Podcasting takes some work, so you're going to want to make sure you spend adequate time upfront to make sure you choose a topic that excites you. Something that has more than three episodes worth in your head. Something that'll keep you going for the long run.
I can't tell you what topic to choose, but I can give you a couple exercises that I teach my students that will help you frame whether or not a topic you're thinking about is worth pursuing.
Define your goals: Why do you want to start a podcast? It's important to know your why, even if it's to have fun with friends.
Some good reasons for starting a podcast are:
To generate leads for a business
Be recognized as an industry leader
Share an important message
Podcasting has a lot of benefits for brands and businesses, but it's important to be realistic about your goals.
While some podcasters shoot to fame, most have a small target audience that they build over time.
Pick Your Podcast Name: The title of your podcast is one of the first things people see, even before they listen to a single word of your show. So naturally, this is a really important decision.
All this info goes into your podcast host when you setup your show there, and you can always change anything related to your show (people change their title, description and artwork all of the time), but I understand if you're feeling a little hesitant about nailing down a show title and moving forward. It defines your branding, your artwork, what you say, how you share it, and many many more things.
For several podcasters who already have a brand elsewhere (where the podcast is an extension of that brand) then naming the show is usually relatively simple. It includes the brand name, and sometimes some version of the word "podcast," "radio," "show," or other modifier to differentiate it a bit: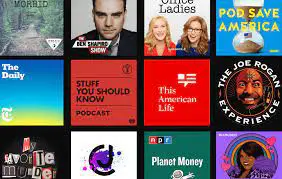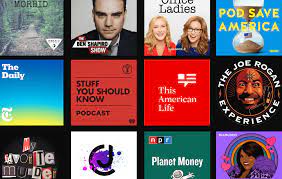 For personal brands, you'll almost always see the name of the person in the show itself, which makes sense because they are the brand: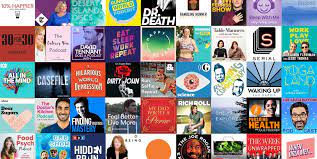 Then you have the titles of podcasts where you know exactly what you're going to get when you listen to it. The title, itself, is descriptive of the content. And yes, this does help with search engine optimization:
And then of course, you have the podcast names that at first glance, don't make any sense at all. And these can be successful, too! The podcast name takes meaning based on what the host does with it. So even if you can't nail the perfect descriptive show title, know that whatever title you pick eventually becomes what you make of it:
Remember, Apple and other directories are also search engines—don't forget that.
However, I do have an important warning: Don't go crazy with the keywords in the title of your podcast. Don't keyword stuff by adding a billion keywords after the actual name of your show. Try to keep your title as natural as possible, so select your keywords carefully.
Apple has been known to remove accounts due to obvious keyword stuffing in titles.
Don't do that.
Oh, and for your host name, do not do this, either:
John Smith | Fitness Expert | Nutritionist | Weightlifting Coach | Likes Long Walks on the Beach
Spend some time coming up with ideas for your podcast title. Share it with people around you and get a gut reaction to see what they think. And if you have an audience, ask them. It's a great excuse to seed that you're coming out with a podcast soon (and it'll hold you accountable, too).
Setup podcast recording equipment: You don't have to buy expensive equipment to have good audio. Lots of popular podcasts have a basic setup.
Let's review what to look for in a podcast microphone. Then, we'll make our top podcast equipment recommendations.
Best podcast microphones
A good podcast mic enhances your audio quality and makes editing easier. Less background noise in your recording means less editing on the backend.
Here are a few to consider before getting your first podcast mic.
Dynamic or condenser
Dynamic microphones work best for podcasting. They pick up lower frequencies and have less sensitivity. This means you'll have less background noise to edit out later.
Condenser mics have more sensitivity and pick up a wider range of frequencies. Sensitivity is good for recording music but isn't ideal for spoken word.
XLR or USB
Podcast mics have two types of connections: XLR or USB.
XLR mics give you maximum flexibility. There are a lot of XLR mics to choose from, and they usually have a long life. But XLR mics require an interface or mixer to hook up. This can get expensive for beginners.
USB microphones are less expensive and plug directly into your computer. You can also run it through an interface if you record with multiple people.
USB mics are affordable, practical, and sound great. This mic is the best option for the majority of podcasters.
Top Mic Recommendations:
Samson Q2U | $70
Podmic | $100
Shure SM7B | $400
Example podcast setups
One-person setup ($70)
Samson Q2U | $70
Any headphones you already have
Two-person setup ($400)
Samson Q2U | $70 (x2)
Audio Technica M20x | $50 (x2)
Focusrite Scarlett 2i2 | $160
Three-to-four-person setup ($960—$1,080)
Samson Q2U | $70 (x3 or 4)
Audio Technica M20x | $50 (x3 or 4)
RODECaster Pro | $600
At $200, the Zoom P4 is a cost-conscious replacement for the RODECaster Pro.
Recommended Accessories
RODE PSA1 Boom Arm | $120
Shock mount | $35-50
Foam ball or pop filter | $6—$10
Write a Compelling Podcast Description: You'll need to write a description paragraph about your show to your audience. After they make their way to your show page, this will be the description they read to decide whether or not they want to stick around.
This is where you'll have a little more freedom to play with keywords. Whatever keywords and keyphrases your target audience may use to find content like yours, include those words in your description.
But, just simply listing them out isn't going to work because people will read these, and you want these people to feel compelled to click and listen to your podcast.
My best advice: write for the humans in your target audience, and know who your podcast is for. Understand their wants, needs, questions, curiosities, and more, and you'll be more likely to create a show, and a description to feed people into your show, much much easier.
Example of podcast description:
Start with something that matters to them. There's a small part of the description they'll see first before they have to click to see the rest, so if the benefits or connection is buried, then they won't even know it's for them.
It's okay to talk about yourself, you need to prove that you are someone worth listening to and spending time with. But similar to the above, don't start with you. Feel free to add any credentials and other proof that support this person's decision to listen to you.
Imagine your listeners sharing your show with their friends. What would they say? When they say, "Oh you have to listen to this new podcast, it's great because it's the only one I've found that…", how would you imagine they finish that sentence?
Choose your podcast software: Once you've recorded your podcast, it's time to make edits. This is where you can structure your episode and optimize audio.
Fortunately, podcast editing software is often affordable. There are even some high-quality, free podcast editing tools.
Remote recording software

If you frequently do remote interviews, you'll need software specifically for long-distance recordings.
Riverside.fm
Cost: $9+ per month
Studio-quality recordings
Riverside allows you to record local audio and video, even if you don't have a great internet connection.
Users can take listener call-ins, livestream to social media, and edit videos within a browser. Files continuously upload to the cloud during recording, so you never lose your work.
SquadCast
Cost: $10+ per month
Studio-quality recordings
SquadCast makes it easy to set up a remote podcast interview and capture high-quality, lossless audio.
Squadcast's sound quality is much better because it records local WAV files to each person's computer. The initial setup is more complicated than Zooom, but this tutorial can help.
Zoom
Cost: Free – $15/month
Average recording quality
Most guests have experience with Zoom
Zoom is a go-to remote recording tool with average audio quality. And most people already know how to use it.
The app's default features compress audio, but you can improve the audio by using the best settings for Zoom recordings.
"Note: Don't use Skype to record your podcast. Skype calls are typically much more compressed and of lower quality than the other options."
Editing software
GarageBand | Free
Difficulty: Beginner
Compatibility: Mac and iOS
GarageBand comes pre-installed on most Apple computers. If you don't have it, you can easily download it for free. We think GarageBand is a more intuitive interface than Audacity.
GarageBand is not available on Windows computers or Android phones. This tutorial can help you learn how to navigate the workspace.
Audacity | Free
Difficulty: Moderate
Compatibility: Mac, Windows, and Linux
Audacity is a free, open-source audio editor with pro-level features. This DAW is more than enough for most podcasters to produce great episodes.
Audacity has a steeper learning curve than GarageBand, but we have many Audacity tutorials to help you navigate the platform.
Descript | $10+ per month
Difficulty: Moderate
Compatibility: Mac and Windows
Descript is an all-in-one editing tool that lets you record, transcribe, mix, and edit your audio files like you would a text document.
Descript can automatically remove filler words and dub over a phrase with text-to-speech voice cloning.
This Descript tutorial shows how to use the video and screen recording feature and the in-browser editing suite.
Hindenburg Pro | $12 per month
Difficulty: Moderate
Compatibility: Mac and Windows
Hindenburg is a pro-level audio editing software designed specifically for podcasters and journalists.
The workspace features simple tools made for spoken word and automated options to streamline your workflow. This Hindenburg walkthrough gives you an idea of the workspace.
Alternatives:
Adobe Audition
Logic Pro
Other podcast software
These tools aren't required but can improve your workflow and help optimize your content.
Otter.ai | $13 per month
Otter.ai is an automated transcription service. The tool is highly accurate and has a quick turn-around time.
Buzzsprout has an Otter.ai integration, so you can easily upload your Otter transcripts into your dashboard when they're ready.
This service is a great option if you speak English. If you speak another language or have a heavy accent, it won't render accurate results.
Magic Mastering | $6 per month
Magic Mastering automatically levels out and optimizes your audio file, like an Instagram filter for your podcast.
This tool helps simplify your workflow and guarantees your podcast meets industry best practices.
Audio Hijack | $64 one-time fee
Audio Hijack lets you record audio from any website or application and save it as an audio file.
Audio Hijack is an excellent option if you livestream with Twitch, StreamYard, or Facebook Live.
Decide on Your Podcast Format: Are you going to do interviews, or will it be just you?
How long should my podcast episodes be?
How often should I publish my podcast?
Let me answer these common questions for you:
Show Style: Interview Show, or Solo Show?
There's no wrong answer here, but it's good to think about, ahead of time, whether or not you'd like to invite guests onto your podcast.
Don't worry yet about how you're going to interview other people, or even how you're going to convince them to say yes (more on that later in the tutorial), but the earlier you decide, the earlier you can plan and begin reaching out to others.
Interviews are fantastic because you can get information and collect amazing stories that you yourself couldn't provide to your audience – at least not from the source. That being said, scheduling interviews and coordinating all of that can get difficult at times. I use a tool like SavvyCal [affiliate link] to help me schedule my interviews.
The biggest benefit, however, is the relationship that you can build with your guest during the call. You're going to have a conversation for several minutes, sometimes even over an hour, and sometimes you can't help but get to know the person and become friends.
Many of my best friends in the online and business space have come as a result of the people who I've connected with on my podcast, or me on their podcast.
Solo shows (where it's just you recording) are awesome, too. They show-off authority, you can build trust with your audience (especially if you help them) more directly, but imagine sitting in a room talking, by yourself, to a microphone. It feels weird at first, but you get used to it. Like anything, it just takes some practice.
"How Long Should My Podcast Episodes Be?"
The most common question I get when it comes to how to start a podcast is about the length of episodes.
Number one, know that you don't have to have the same length episode every single time. In general, you want to stay within an expected range, but if you happen to journey outside of that time, it's not the end of the world.
The best answer to how long an episode should be is this:
However long the episodes needs to be to serve its purpose for your audience.
If an interview was going well but you haven't gotten to the main story yet, would you cut it off just because of time? On the other hand, if you said everything you needed to say, would you add 20 minutes of fluff just to hit a certain time?
Long episodes are okay, and short episodes are okay. Just try to remain within a range consistently over time, but the random outlier is okay, too.
"How Often Should I Publish My Podcast?"
You should publish your podcast consistently.
That's the answer.
It doesn't matter if your podcast comes out each week, every other week, or once a day. As long as you can get into a rhythm and groove so that your audience knows what to expect, then it's okay.
Obviously, the more frequent you publish, the more opportunities there are for your audience to downloads more episodes, share more episodes, and there would be more content for you to be found with via search.
But at the same time, the more episodes you publish, the more work there is for you to do.
You can change your frequency (you're not "locked in") and publish whenever you want, but try your best to stick to a schedule for a while until making changes, or else you might confuse and frustrate your audience.
When I started the Smart Passive Income Podcast, I only had the capacity for once every other week. I was blogging and publishing 3 times a week. Then, once I saw how amazing the results were for my show, I switched it to weekly, and then got obsessed and created even more podcasts.
The most important advice related to all of this format stuff is, you have to pick something and go. Stop questioning what the right answer is, because really you won't know until you get started and publish your podcast. Stop holding yourself back, make decisions, and keep moving forward!