Meta Platforms (META 0.77%) has witnessed an impressive surge in its share price this year, with a remarkable 77% increase. Furthermore, the stock soared over 140% from its low point in November last year. Despite such noteworthy momentum, it's essential to consider whether it might be time to book some profits. The stock's impressive gains may have created an overly optimistic sentiment among investors, which often warrants a closer examination to determine if it might be wise to sell. Therefore, the question arises whether it would be prudent to sell some shares of Meta Platforms following its significant rally.
With shares of the Facebook parent up nearly 80% this year, is it time for investors to take some profits?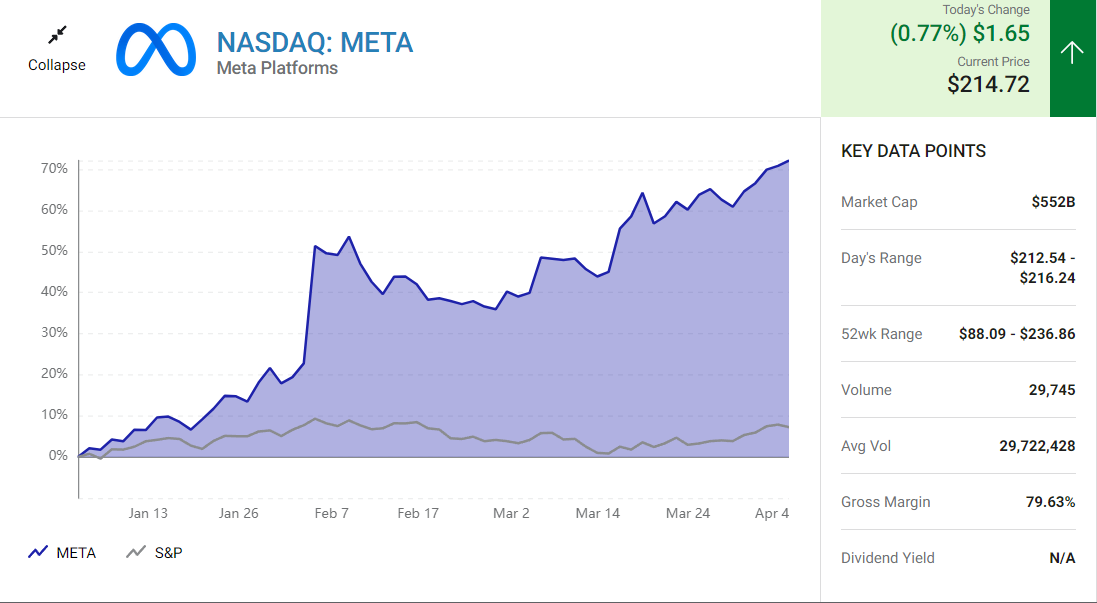 The valuation hasn't become irrational
Despite the significant rise in Meta Platforms' stock price, the company's valuation remains reasonable. The stock currently has a price-to-earnings ratio of 24, higher than the S&P 500's average price-to-earnings ratio of 18. However, considering Meta's potential for solid earnings growth in the future, its current valuation appears to be justifiable.
There are several reasons to anticipate Meta's earnings growth in the coming years. One of the primary catalysts is the continued monetization of its popular Reels browsing format, which has the potential to boost revenue significantly. Additionally, as the economy recovers, Meta's advertising business may experience a substantial uptick, further contributing to earnings growth.
Moreover, Meta has been taking aggressive measures to cut costs, including layoffs, which could significantly improve earnings. The company may adopt a leaner operational model, leading to higher profitability.
Despite the significant gains in Meta's stock price, the company appears to have several compelling catalysts that could drive earnings growth in the coming years, making it a potentially attractive investment opportunity.
Another catalyst for Meta's future earnings growth is the recovery of its ad tracking and measurement abilities. Apple's privacy features, introduced in 2021, disrupted Meta's ability to track ads and provide advertisers with performance data. However, the company has been working to rebuild its tracking and measurement tools to adapt to this new environment.
Additionally, an economic recovery in the next few years could benefit Meta. Currently, uncertain environments have constrained advertiser budgets and impacted revenue. However, as businesses regain visibility and interest rates stabilize or decrease, advertisers will likely increase their spending.
Despite its impressive gains, Meta's stock valuation is still reasonable. With a price-to-earnings ratio of 24 and the potential for robust earnings growth in the next five years, the company's stock appears to be a compelling investment opportunity.
One reason to be cautious
To provide a counterpoint, Meta's vulnerability to disruption was recently highlighted by the significant revenue setback caused by Apple's privacy policy changes. Therefore, it is arguable that Meta does not deserve the high price-to-earnings ratios it has commanded in the past, especially those in the 30s. While the company still appears to be a good investment option, the uncertainty surrounding its future is considerable.
As a result, investors may want to limit their purchase of Meta's stock unless they believe they are buying shares at a significant discount to their estimated intrinsic value. This approach could help reduce the risks associated with additional unforeseen technological disruptions.
In conclusion, I would recommend holding Meta's stock. However, given the significant rise in its stock price, it may be prudent to reduce risk by selling a portion of any current position in Meta and investing the proceeds in a less risky alternative.
What should I read next?
At City Telegraph, we predict future values with technical analysis for a wide selection of stocks like Meta Platforms Inc. If you are looking for stocks with good returns, Meta Platforms Inc. stock can be a bad, high-risk 1-year investment option. Meta Platforms Inc.'s real-time quote equals 214.720 USD on 2023-04-05, but your current investment may be devalued. Read More